Two Baked Salmon Recipes
Teriyaki Salmon ~ Simple Baked Salmon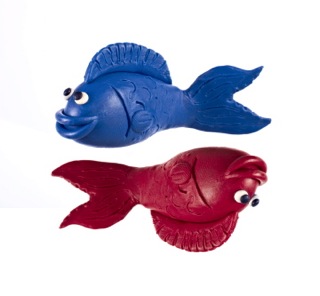 These kosher baked salmon recipes go together in no time and keep well in a sealed container for days in your refrigerator. When baking, line your pan with foil to make clean up a snap.
Smaller fillets will require less time in the oven. Bake just until fish is firm, opaque and flakes easily when you lift the flesh with a fork.
The sweet and salty combination in these fish recipes bring out the best in the natural flavors of fish.
~Fish play an important role in Jewish cooking, and many customs and halachos apply to fish. There is much to learn from these creatures. One is their role in warding off the "ayin hara," the evil eye.
The Simple Salted Baked Salmon Recipe ~from Cooking for The King
Elegant served whole, surrounded by lemon slices and dill sprigs. You'll really enjoy it with a sauce of this easy creamy pareve ranch dressing recipe on the side.
2 teaspoons Kosher salt
2 teaspoons sugar
3 pounds salmon fillet
1. Preheat oven to 350 degrees. Place rinsed salmon on a foil lined baking pan. Sprinkle fish with salt and sugar.
2. Bake for 20 minutes, until center is opaque and flaky. Do not overbake.
The Teriyaki Baked Salmon Recipe ~from Cooking for The King
3/4 cup brown sugar
4 tablespoons tamari or soy sauce
1 tablespoon lemon juice
3 pounds salmon fillet
1. Combine all ingredients and place in a storage container with a cover. Marinate 30 minutes to overnight.
2. Remove fish from container to a foil lined baking pan and discard marinade. Bake in an oven preheated to 350 degrees for 20 minutes or until center is opaque and flaky. Do not overbake.

Queen in the Kitchen Salmon Salad
and other brilliant ideas:
Quick and easy salmon salad: ~flake either recipe over a bed of greens and top with thinly sliced cucumbers and colorful bell peppers.

Teriyaki Baked Salmon ~is pretty when served on a bed of pre-shredded cabbage, carrots and chopped green onions then drizzled with this Japanese Ginger Asian Salad Dressing.

The Simple Salted Salmon ~is wonderful in Seafood Pasta Salad or flaked over any green salad drizzled with this delicious Pareve Ranch Dressing Recipe .
Fish Taco Dinner~wrap baked salmon fillets in warm tortillas spread with chummus or bean dip, add pre-shredded lettuce and a dallop of salsa. Taco chips and Planned Over Shabbos salads or cole slaw from the store makes it a quick and easy family dinner. (You can do this with chicken or beef, too!)

Chipolte Salmon Cakes~Leftover salmon?Discover Planned Overs and try my taste tingling Chipolte Salmon Cakes, it's a new and improved salmon patties recipe!

There's so much depth in our day-to-day lives when we look below the surface and just think. Here's something to think about while you are making these delicious and simple Baked Salmon Recipes.
---
Cooking for The King by Renee Chernin
The book of Torah insights, recipes and practical tips
designed to bring majesty to the mundane.