Challah Dressing
for Thanksgiving Day~or any day you are thankful for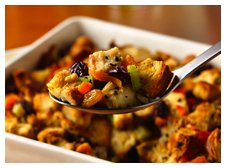 Why this Challah Dressing fit to be a Queen in the kitchen recipe?
Maybe it's because it uses Cooking for The King's Challah Recipe for making this most delicious Challah Dressing or maybe it's simply~ because she S-A-I-D so!
A true queen in the kitchen is not a dictator. She's a wise woman who knows how to manage her home so that every person feels valued and cared for, including herself.
When it comes to cooking, where we arguably spend the bulk of our homemaking hours, Queen in the kitchen recipes have to meet my S-A-I-D criteria. My favorite Challah Dressing Recipe wins because of its:
Sensible use of your time and resources
Adaptability ~ Substitute any dried fruit you like, throw in a chopped carrot, pecans or even a handfull of cilantro if that suits you
Ingredients that are reasonably easy to find ~no scouring the aisles for that obscure seasoning you'll only use once
Delicious flavor~of course it has to taste good! The sweet challah contrasts well with the mild sour taste of the dried fruit, it has a great fluffy texture and roasting the vegetables gives it a depth of flavor you are all sure to enjoy
---
Queen in the kitchen style~ Challah Dressing
4 cups chicken broth
4 ounces dried mushrooms
2 medium onions, chopped
4 large stalks celery, chopped 
2 bell peppers, chopped
2 tablespoons olive oil

1 tablespoon kosher salt, or 1 teaspoon table salt
6 cups challah, cut into 1/2-inch cubes 
1 cup unsweetened dried cherries or chopped apricots, Craisins, golden raisins ...
2 eggs, beaten
2 teaspoons dried thyme
1 teaspoon pepper

1. Heat the chicken broth and place mushrooms in a separate bowl. Pour heated broth over mushrooms. Cover and set aside.
2. Preheat oven to 400 degrees F. In a large mixing bowl toss the onion, celery, and bell pepper with the oil and salt. Place the vegetables on a large baking pan and roast for 20 minutes. Remove pan from oven, stir vegetables, then spread the cubed bread over the vegetables and return to the oven, for 10 minutes until the bread is golden brown.
3. Remove bread and vegetables to the large mixing bowl. Lower oven to 350 degrees F. Drain mushrooms, reserving 2 cups of liquid. Chop the mushrooms and add to the bowl with dried fruit, eggs and seasonings. Toss and add chicken broth a half a cup at a time, tossing and stirring the challah dressing mixture to combine ingredients and break up pieces of challah. The challah stuffing should hold together, but should not be mushy.
4. Spray a 9x13 inch glass baking dish with vegetable cooking spray. Spread challah dressing in the pan and cover tightly with foil. Bake for 40 minutes. Uncover and continue baking another 10-15 minutes until the top is golden.
Active time: 20 minutes ~ Cooking time: 1 1/2 hours
Serves: 10-15 ~ Can Freeze
Pareve
---
| | |
| --- | --- |
| | When you go about you daily tasks, take your own S-A-I-D accounting: Is this activity a sensible use of my time? How can I adapt to accept the current situation? Do I realize that very ingredient for a successful life is flowing toward me, a constant gift from HaKodesh B"H? What is delicious about this moment?   So much to be thankful for! The Kosher Channel explains... |
---
---
---