Cook Once Eat Twice
Two Great Recipes
You'll need:
3 lbs. lean ground beef
1 onion, chopped
1 bell pepper, chopped
1 ½ cups water
5 cups cooked rice (1¾ cup long grained white rice =5 cups cooked)
2 (1 1/4 ounce) packages taco seasoning mix
OR mix up an economical batch of your own taco seasoning: 2 tablespoons chili powder, 1 teaspoon each: cumin, paprika, garlic powder, ½ teaspoon cornstarch, onion powder, dried oregano seasoning salt.
Directions:
Brown ground beef with onion and pepper. Drain fat, stir in water and taco seasoning, cook for an additional 5 minutes. Separate half of the meat mixture, cool and refrigerate in a tightly sealed container.
Tacos & Rice Dinner

photo credit: istockphoto© Ules Barnwell
Your family's choice of :
chopped onion
chopped bell pepper
diced tomato
mashed avocado
chopped jalapeno pepper
shredded lettuce or cabbage
pareve (real if using meat substitute) sour cream
warmed crunchy or soft taco shells
Serve tortillas or taco shells, and let your family build their own creation. Serve with Spanish Rice. Make a double batch of rice, you'll be using them in the Mexi-Stuffed Peppers.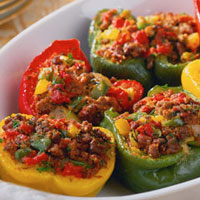 Meal 2: Stuffed PeppersI never really liked stuffed peppers until I tried them with this Mexican twist. They are a real crowd pleaser! Some have told me they add beans in place of half the rice and my kids loved it when I once threw a cup of corn in the mix. This dish freezes well. In fact the peppers will be softer if you do. Thaw in the refrigerator overnight before baking.
We serve this with a simple salad of shredded cabbage and bottled or simple homemade vinaigrette or Corn and Tomato Salad.
You'll need:
1 egg, beaten
2 cups cooked rice
4-6 bell peppers, halved lengthwise, stemmed and seeded
1 (19 ounce) can diced tomatoes
1 (15-16 ounce) jar salsa
(shredded cheddar cheese, if using soy meat)
Directions
1. Preheat oven to 350 degrees. In a large bowl, crumble meat mixture, mix in the beaten egg. Gently stir in the rice and beans or corn if using.
2. Spread tomatoes and one cup water on the bottom of an ovenproof 9x13 inch inch baking dish.
3. Spoon beef mixture into peppers. 
Place peppers, cut side up, on top of the tomatoes. Top each pepper with salsa. Cover pan tightly with foil. (at this point you may freeze or continue with the recipe)
4. Bake in preheated oven for 30 minutes until peppers are soft.
If using soy based meat: uncover baking pan, top each pepper with cheese Broil about 1 minute until the cheese is melted
Be sure to read these cook once, eat twice tips. Want to see more? Here are more Cook Once, Eat Twice recipes from thekosherchannel.com.
---
Cooking for The King by Renee Chernin
The book of Torah insights, recipes and practical tips
designed to bring majesty to the mundane.