Planned Over Fajitas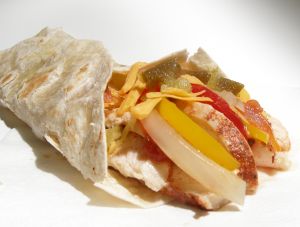 per person:
1/4 cup cooked London broil, roast beef, grilled chicken, (why not try fish?)
1 teaspoon vegetable oil
1/4 bell pepper, thinly sliced
1/4 onion, halved and thinly sliced
1/2 garlic clove, minced
1/4 lime
1 flour tortilla
1. Thinly slice meat.
2. In heavy skillet over high heat, pour enough oil to coat bottom of pan. Add bell peppers and onion. Stir until onion is wilted, lower heat, add garlic, stir one minute until fragrant, add meat, toss until warm. Finish with a squirt with lime.
3. Serve with warm tortillas, salsa, Pink Rice and any planned over slaw.
---
Cooking for The King by Renee Chernin
The book of Torah insights, recipes and practical tips
designed to bring majesty to the mundane.