Hanukkah Cupcakes
a.k.a. Sufganiyot Cupcakes~taste like jelly filled doughnuts!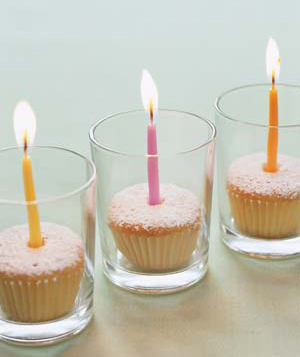 These delicious Hanukkah cupcakes taste almost like sufganiyot, Israeli style jelly filled doughnuts, so popular at this time of year.
Hanukkah Cupcakes ~ from Cooking for The King
1 cup milk or coconut, almond or soy milk
2 tablespoons apple cider vinegar
2 tablespoons cornstarch
1 1/2 cups flour
3/4 teaspoon baking powder
1 teaspoon baking soda
1 teaspoon allspice
1/2 teaspoon salt
1/3 cup canola oil
1 cup plus sugar
2 teaspoons vanilla extract
1/2 cup raspberry, strawberry, or grape jelly, caramel or chocolate sauce
1/4 cup powdered sugar
candles or candies
1. Preheat oven to 350 degrees and line a cupcake tin with paper liners.
2. In a mixing cup, combine the milk, vinegar, and cornstarch and set aside.
3. In a large mixing bowl, stir together flour, baking powder, baking soda, allspice and salt. Stir the cornstarch mixture and whisk into the flour mixture. Add the oil, sugar, and vanilla, and whisk until blended.
4. Fill the cupcake liners with batter to almost full. Bake for 20-22 minutes until the tops spring back when gently pressed with a finger. Cool completely on a wire rack for 2-12 hours.
5. Fill a squirt bottle or a pastry bag with jelly. Carefully insert the tip to reach the middle of each cupcake. Gently squeeze 1-2 teaspoons of filling into each cupcake. Sift tops with powdered sugar and for a finishing touch, place a candle in or candy over the hole.
Makes 12-14 cupcakes
Active time: 20 minutes ~ Total time: 45 minutes
can make ahead ~ can freeze

See the Hanukkah Cupcakes Menorah and
more Hanukkah recipes here!
---
Cooking for The King by Renee Chernin
The book of Torah insights, recipes and practical tips
designed to bring majesty to the mundane.