Kosher Beef Bourguignon
is it an oxymoron?
Beef Bourguignon, the classic rich, long simmered beef stew in red wine begins with a big red "Stop Sign" for the kosher cook.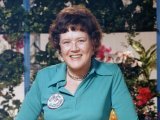 The first step in Julia Child's famous rendition is to fry a slab of smoke-cured bacon in pure dairy butter. Never mind what this does to your arteries, it completely blocks your kosher channel, that heart and soul con-
nection that remains clear for a Jew who eats only kosher food.
Does that mean there is no beef bourguignon option if you want to eat a kosher diet? Not at all. In her own words Julia Child says, "there are more ways than one to arrive at a good beef bourguignon."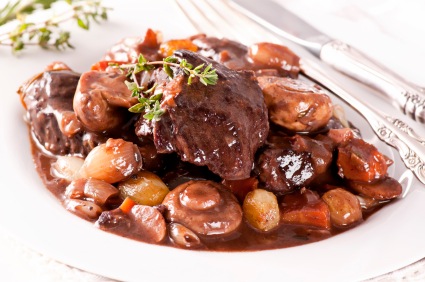 The following recipe, adapted from The Best of Food and Wine, get accolades every time. Not only does it adhere to kosher dietary laws, but I streamlined the arduous steps of the original recipe. Delicious, easy, KOSHER Beef Bourguignon? Yes, Julia-it can be done.
Cooking for The King's Kosher Bouef Bourguignon Recipe is, (quote adapted from Julia's book Mastering the Art of French Cooking)
, "certainly one of the most delicious beef dishes concocted by (a Jewish wo)man..."
Kosher Beef Bourguignon~from Cooking for The King

3-4 pound beef chuck roast, or top of the round, cut into 2" cubes
3 tablespoons olive oil
1 medium onion, chopped
1 medium carrot, chopped
1/2 cup flour
3 cups dry red Italian kosher wine
2 cups beef stock
2 shallots, chopped
4 garlic cloves, chopped
3 tablespoons tomato paste
1 bay leaf
1/2 teaspoon dried thyme
1/2 teaspoon dried parsley
1/2 teaspoon salt
1/2 teaspoon pepper
1 pound button mushrooms, halved or quartered into bite sized pieces
1 pound small white onions, peeled, see note
1. Heat oil in a large, heavy dutch oven over high heat, quickly brown the beef in two batches. Remove meat and set aside. Reduce heat to medium. In the same pot, cook onion and carrot until browned, 2 to 3 minutes. Return meat and accumulated juices to pot with the vegetables. Sprinkle with flour, toss to coat and continue cooking, stirring constantly, for 5 minutes.
2. Add wine, stock, shallots, garlic, tomato paste, bay leaf, thyme, dried parsley, salt and pepper to the pot. Bring to a simmer, reduce heat to low and cook, covered, for two to three hours. Stir occasionally to keep meat from sticking to the bottom.
3. When beef is very tender, remove bay leaf, check the seasoning, add pearl onions and mushrooms and cook uncovered for 15 minutes.
To peel pearl onions: Using a small, sharp knife, score the bottoms with a tiny "X." Drop the onions in very hot water for 3 minutes, Drain, Peels should easily slip off. -Peeled tiny onions are also available in the frozen foods section of your grocery
Serve over Parslyed Noodles or Mashed Potatoes. For Chanukah, we enjoy Beef Bourguignon over latkes, Jewish potato pancakes.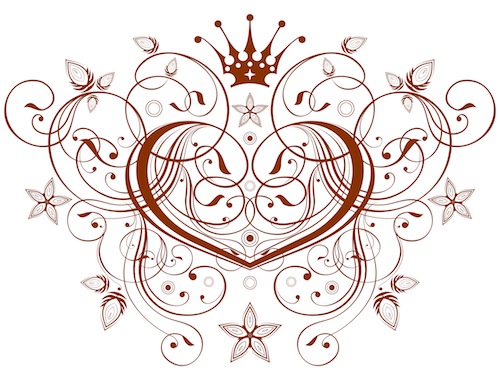 QITK tip: This dish, like most soups and stews, improves greatly by resting overnight in the refrigerator so that the flavors can develop and meld. This also gives you the opportunity to reduce fat. When chilled, the fats will solidify on top of the stew. Remove this layer before reheating for a healthier entree.
Makes: 8-10 servings ~ Can make two days ahead
Active time: 40 minutes ~ Cooking time: 3 hours
Can freeze

~~


Accompaniments:

Parslyed Egg Noodles* or Potato Latkes
*Prepare 1 (16 ounce) package wide egg according to package directions. Drain, toss with 1 tablespoon margarine and 3 tablespoons fresh chopped parsley. Serve warm topped with Kosher Beef Bourguignon.
Photo Credit (Beef Bourguignon):istockphoto.com@HL-Photo
---
Cooking for The King: The book of Torah insights, recipes and practical tips designed to bring majesty to the mundane.