"Deli"cious
Kosher Deli Roll Recipe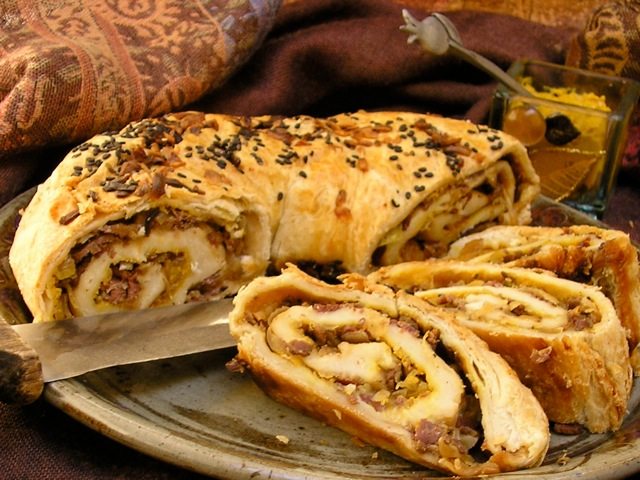 This kosher deli roll is beyond ordinary; it's a very special and budget friendly treat for your Shabbos table.
Many deli roll recipes combine meat and cheese which is forbidden in the kosher diet. Now you have a simple recipe that everyone likes, frugal cooks, especially.
Sautéing shredded beef with onion stretches the meat to serve an army of hungry men so I often make this delicious kosher deli roll and a steaming cholent when we host a table of hungry yeshiva boys...
...and boys (of any age) are always hungry, aren't they?
The Kosher Deli Roll ~from Cooking for The King
1 tablespoon oil
1 onion, chopped
1/2 pound pastrami or corned beef, shredded
1 cup sauerkraut, drained
1 (16 ounce) package frozen puff pastry, thawed
1/4 cup favorite prepared mustard
2 tablespoons brown sugar
1 egg, beaten
poppy seeds, sesame seeds, dried onion, optional
1. Preheat oven to 400 degrees. Spray a baking pan with non-stick vegetable spray or lightly coat with oil.
2. In a large pan over medium high heat, heat oil. Add onion and cook, stirring until translucent. Lower heat to medium low, add pastrami, and stir occasionally for 5 minutes. Remove from heat, stir in sauerkraut. Cool completely.
3. On a floured surface, unroll a sheet of pastry dough. It should be about an 18 inch by 12-inch rectangle. (if smaller, make two rolls as indicated in step 4).
4. Spread pastry with mustard, sprinkle with brown sugar. Cover with cooled pastrami mixture, leaving a 1-inch border all around. If the dough is narrow, use half the pastrami mixture and repeat to make two rolls.
5. Starting at one of the long sides, roll the dough into a log. Press the ends to seal. Brush with beaten egg, sprinkle with seeds or dried onion.
6. Place log on prepared baking pan and bake in preheated oven 30 to 40 minutes until puffed and golden.
7. Slice and serve with additional mustard or prepared horseradish sauce.
Makes: 10-12 servings
can make ahead ~ can freeze
Active time: 15 minutes ~ Cooking time: 40 minutes

This Kosher Deli Roll also makes a great Shabbat appetizer with an assortment of spreads and salads from Cooking for The King.

Questions? Just email me here! I love to hear from my readers~
---
Cooking for The King by Renee Chernin
The book of Torah insights, recipes and practical tips
designed to bring majesty to the mundane.