Queen of Persia Kosher Stuffed Fish Recipe
Queen in the kitchen style, that is!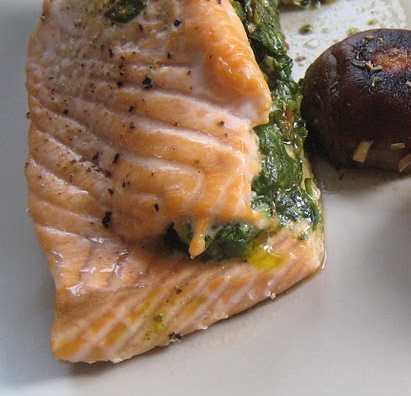 This kosher stuffed fish recipe is Persian inspired and cites authentic ingredients that may not be so easy to find. Not to worry!
You are the Queen of the Kitchen (QIK), and substitutions are perfectly acceptable. The true Persian queens among you may want my head for that (sorry!), but the rest of us will hardly be able to note the difference.
Looking for something simpler than the Persian kosher stuffed fish recipe? Try these delicious tried and true baked salmon recipes from Cooking for The King.
Stuffed Fish, Persian Style ~ from Cooking for The King
~ Accompaniments ~
The full Persian Menu
for Purim, Sheva Brachos, or just for fun
Ingredients
4 lbs fish filets*, 2 large salmon, 6 medium tilapia or 4 medium halibut filets-just be sure to drain the filets well and pat dry
1 large onion, chopped
2 T olive oil
2 cloves garlic, finely chopped
1 bunch cilantro, washed and dried, chopped by hand or pulsed a few times in food processor
1/3 cup walnuts, roasted and chopped coarsely
¼ cup tamairind paste or QIK substitutes:

opt.#1
1 dried date, 1 dried prune, 2 dried apricots chopped fine with 1 tablespoon lemon juice.
opt.#2
2 tablespoons lime juice mixed with 2 tablespoons molasses
¼ cup dried barberries, or substitute with Craisins
1 tablespoon sour cherry syrup, or substitute with cherry jelly
2 teaspoons turmeric
1 teaspoon ground cumin
¼ teaspoon pepper
½ teaspoon red chile flakes, optional
juice of one large lemon
1 thread $affron: worth the price, keeps in the freezer for years. Even I would not offer a substitute for saffron in this dish!
Directions
1. In a large heavy frying pan over medium high, heat oil and add onions. Saute until golden brown. Add garlic, cilantro (set aside some for garnishing if you like), walnuts, tamarind or substitute, barberries or Craisins, syrup or jelly, turmeric, cumin and pepper. Stir well and lower heat to medium low.
2. In a small bowl, crush saffron and add 2 tablespoons hot water. Stir to dissolve saffron then add to stuffing mixture and stir well. Remove stuffing from heat and allow to cool.
3. Preheat oven to 350F degrees. Line a large baking pan with foil and spray with vegetable cooking spray. Lay out half the filets and sprinkle with chili flakes and juice of half a lemon. Spread stuffing almost to the edges of the fish. Top each filet with another plain filet, press gently around the edges. Squeeze juice from remaining lemon half over all.
4. Place in over for 20 for thinner fish and 30 minutes for larger. Fish is ready when fish flakes when moving a fork placed in a thicker part of the flesh.
To serve, gently place on a serving platter and scatter with reserved cilantro and lemons cut into eighths for squeezing.

You can also slice the fish for a dramatic presentation. This works with the larger, thicker cuts of fish. Chill thoroughly then slice with a large serrated knife across the width of the fillets. Lay each piece on its side in a large serving dish and top with a lemon slice.
Serves 12-14 people as a first course, 8-10 as a main course
Active time: 20 minutes ~ Total time: 40-50 minutes ~ can make ahead

Try another Sephardic recipe for fish: Cooking for The King's Moroccan Fish Recipe here~

*QIK TIP: Traditionally Persian Fish recipes use whole white fish, deboned and butterflied. I like to make it easy on myself and use easy to find salmon. Also, smaller, thinner white fish fillets such as tilapia and halibut work beautifully. Their mild flavor and light color give this Persian fish recipe's flavorful stuffing center stage.
---
Cooking for The King by Renee Chernin
The book of Torah insights, recipes and practical tips
designed to bring majesty to the mundane.