Perfect Oven Fried Chicken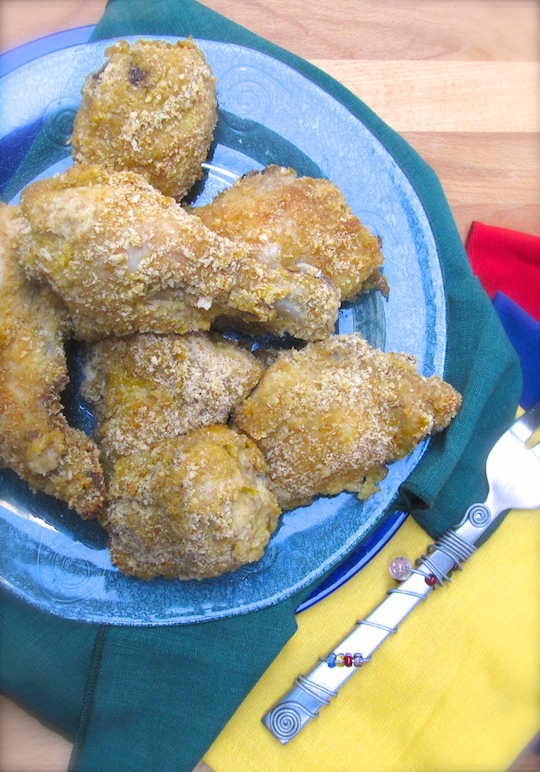 I'm happy to share one of our favorite chicken recipes
Honey  Mustard  Oven Fried  Chicken
You'll find this delicious recipe and many more in Cooking for the King, recipes with the taste of Torah, designed to bring majesty to your menu
There are lots of recipes for Oven Fried Chicken, but this one is moist and delicious every time. The secret is the long slow baking. However, it easily goes together ahead of time in only about 10 minutes.

1 cup Dijon mustard

3 garlic cloves, peeled and minced
2 tablespoons honey
1 teaspoon pepper
1/2 teaspoon cinnamon

3 cups cornflake or toasted bread crumbs
12 pieces chicken legs and thighs about 5 pounds rinsed and patted dry
1. Preheat oven to 300 degrees. In a large bowl combine mustard, garlic, honey, pepper and cinnamon. Pour cornflake crumbs in a large flat pan. Using your hands, thoroughly coat chicken pieces in mustard mixture, then roll in cornflake crumbs. Place chicken, sides not touching, on a baking pan. (Can prepare up to one day ahead through this step. Refrigerate, covered, until ready to bake.)

2. Bake, uncovered, in preheated oven for 1 1/2 hours until golden brown.
Makes: 8-12 servings ~ Can make ahead
Active time: 10 minutes ~ Cooking time: 90 minutes

Serving tip: Oven Fried Chicken goes great with Zydeco Beans and Smashed Potatoes
Planned Over Oven Fried Chicken idea:
Here's a way I serve this recipe's chicken leftovers that's always appreciated. People cannot believe they are eating leftovers, so call them Planned Overs, and don't tell them how easy this is!
For every 4 pieces of chicken, stir together :
1/2 cup orange juice
1/2 cup chicken broth
2 tablespoons honey
I like to season this with 1/2 teaspoon curry powder, but you can substitute ginger or prepared mustard.
Pour the mixture over your chicken, cover well and bake in a 350 degree oven for 30 minutes. Delish!
---
Cooking for The King by Renee Chernin
The book of Torah insights, recipes and practical tips
designed to bring majesty to the mundane.