Southern & Pareve
Pumpkin Pie Recipe
Who would ever think that a pareve pumpkin pie could be the subject of determined debate? Is it a side dish or dessert? Do you top it with marshmallows or a dollop of whipped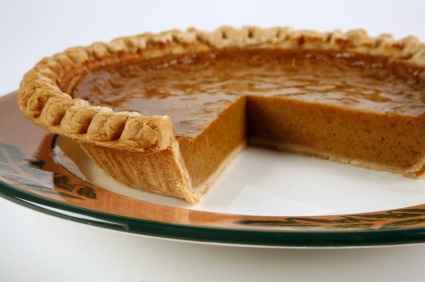 cream?
Well, I can tell you from my own roots in the deep south, that a true southern pumpkin pie is always-and only-a delicious side dish And it never wears a sticky white marshmallow or white cream garnish, either.
Plain and simple. Tried and true...and now from The Kosher Channel, pareve pumpkin pie for dessert or a side is yours to decide.
©istockphoto/ Jack Puccio
2 cups cooked, mashed pumpkin
2 prepared pie crusts, baked 10 minutes
1 stick margarine or 1/4 cup canola oil
2 eggs, slightly beaten
1/2 cup sugar
1/2 cup milk, almond or soy milk
1/4 cup brown sugar, firmly packed
1 teaspoon cinnamon
1 teaspoon vanilla
1/2 teaspoon nutmeg
1/4 teaspoon allspice
1. Preheat oven to 350 degrees. In large mixing bowl combine the pumpkin, margarine or oil, eggs, sugars and spices. Beat with an electric mixer well until fluffy.
2. Pour mixture into pie crusts. Bake in preheated oven 20 to 30 minutes until custard sets and crust is browned. Turn off oven. Allow pies to rest in oven with door ajar for 30 minutes to one hour. This helps keep the crust flaky.
Makes: 16 servings ~ Can make ahead ~ Can freeze
Active time: 20 minutes ~ Cooking time: 30 minutes

To be Queen in the Kitchen means we use our bina to build with what we have~and not just in the kitchen, of course. Here's more about that...
~Feel free to replace pumpkin with sweet potatoes, acorn or butternut squash if you have it on hand.
~Canned pumpkin is a real time saver, too.
~Mashed sweet potatoes with butternut squash is a lighter alternative dish to this pareve pumpkin pie.
---
Cooking for The King: The book of Torah insights, recipes and practical tips designed to bring majesty to the mundane.