Delicious and Easy Salmon Quiche
with creamy dill sauce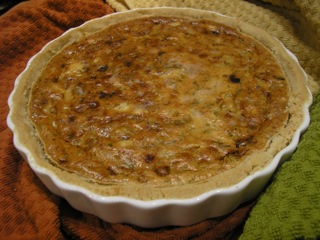 This economical, easy make ahead Salmon Quiche recipe was inspired by one of my testers and a most creative cook who served us her delicious version on Sukkos.
Rifki helped spark the idea for this book. The wife of an engaging rebbe and daughter of a well known outreach rabbi, I was surprised when she confided that she felt something missing in the routine of life. She generally enjoyed the creativity in her daily task of cooking, but often longed for deeper motivation.
She confirmed my suspicion that women long to connect to the holiness in homemaking. We know something more is hiding just behind the veil of recipes, pots and presentation; and we want to cook...for the King.
Queen in the Kitchen Salmon Quiche Recipe
1 cup (pareve) sour cream
1 cup mayonnaise
1/4 cup water
1 tablespoon lemon juice
1/4 cup fresh or frozen dill, chopped or 1 tablespoon dried
1 teaspoon garlic powder
3/4 teaspoon salt
1/4 teaspoon pepper
6 eggs, beaten
1 tablespoon olive oil
10 shallots or 2 onions to equal 1 cup, chopped
1 (16 ounce) can salmon, drained
2 regular frozen pie crusts, thawed or 2 homemade pie crusts
1. Preheat oven to 400 degrees. In a medium bowl, mix together the sour cream, mayonnaise, water, lemon juice, dill, garlic powder, salt and pepper. Pour off one cup of the sauce and refrigerate the remaining. Stir the beaten eggs into the one cup of sauce, mixing well to incorporate.
2. Heat oil in a medium skillet over medium high heat. Add shallots and cook, stirring occasionally for about 5 minutes until golden brown.
3. Add shallots to the custard mixture. Chunk salmon into custard mixture, removing the large bones and crushing the small ones. Pour the custard evenly into each pie. Gently shake the quiches around just a little to help the liquid settle evenly.
4. Place quiches directly on rack in oven. Lower temperature to 375 degrees and bake 30 minutes until set. Serve warm or room temperature with reserved Dill Sauce.
This Salmon Quiche recipe makes: 2 quiches, 8 servings each
Can make ahead ~ Can freeze
Active time: 15 minutes ~ Cooking time: 30 minutes

You are the Queen in the Kitchen tip: Almost any fish can be used in place of canned salmon. Faux crab, smoked salmon or planned over baked salmon both work well in this recipe.
Caught without a pie crust? Here's a super-easy, economical pie crust recipe for Pareve Salmon Quiche and almost any savory or sweet pie you are making.
~Now that you've had a taste of Cooking for The King, Sign up for your You are The Queen in the Kitchen Newsletter here~
---
Cooking for The King by Renee Chernin
The book of Torah insights, recipes and practical tips
designed to bring majesty to the mundane.