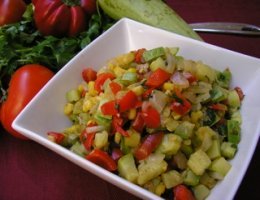 Tex-Mex Ratatouille is quick and easy to put together. It's a great way to get your teenagers, who seem to love tex-mex cooking, to eat a zucchini recipe.
"Beef it up" to main dish status: just serve over rice topped with Planned Over shredded chicken or beef.
For a dairy meal sprinkle with shredded cheddar cheese + crushed taco chips= Ra-taco-tuille!
Try this delicious Mushroom Ratatouille, too
The Tex-Mex Ratatouille Recipe ~from Cooking for The King
1 onion, finely chopped
1 tablespoon olive oil
2 cloves garlic, minced
1 large zucchini, cut into medium dice
1/2 red bell pepper, cut into medium dice
1 cup fresh corn (from one ear) or 1 (8 ounce) can corn, drained
1 teaspoon pickled jalapeño pepper, minced
1 tomato, diced
1/2 teaspoon ground cumin
1/4 cup fresh cilantro or 2 tablespoons frozen, finely chopped
1 teaspoon salt
1/4 teaspoon pepper
1. Heat oil in a large skillet on medium high heat. Add onion and cook, stirring until it begins to brown. Lower heat to medium, add garlic and stir one minute until fragrant. Do not allow garlic to brown. Add zucchini, bell pepper and corn. Stir, cover and cook until vegetables begin to soften, about 10 minutes.
2. Uncover, add jalapeño pepper, tomato, and cumin. Cook uncovered, until vegetables are very tender, 15 to 20 minutes. Season to taste with salt and pepper. Stir in cilantro. Serve warm or at room temperature.