Aunt Beatrice's Secret Tipsy Cake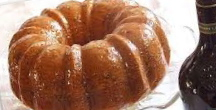 There are many "Whiskey Cakes" and "Tipsy Cake" recipes on the net. This one is the secret Whiskey cake recipe from our sweet and spontaneous, beloved Aunt Beatrice. A GREAT cook!
I'm serving Tipsy Cake for Purim along with these great Purim recipes.
The Tipsy Whisky Cake ~from Cooking for The King
1 box Duncan Hines Yellow Moist Cake mix
4 eggs
3/4 cup oil
5 ounces apricot juice, or orange juice
1 (4 ounce) stick margarine
1/3 cup Bourbon
1. Preheat oven to 350F degrees. Grease bundt ban with shortening and dust with flour.
2. In a mixing bowl combine cake mix, eggs, juice and oil. Beat with mixer for 4 minutes or by hand 100 strokes. Be sure ingredients are well mixed. Pour into prepared pan and bake 1 hour until top springs back when touched with a finger.
3. Meanwhile, in a saucepan over low heat, combine margarine and bourbon.
4. When cake is done, remove from oven, shake loose from sides and turn onto serving plate. With a toothpick, poke holes all over the cake. Pour warm sauce over all.
serves 10-12 ~ best if made a day ahead, can freeze
Active time: 10 minutes ~ Total time: 1 hour, 10 minutes

QIK says, delicious, simple pareve deserts are always something to keep under your crown~ just a click away.
---
Cooking for The King by Renee Chernin
The book of Torah insights, recipes and practical tips
designed to bring majesty to the mundane.