BS"D


Cooking for The King, the Rosh Hashanah Edition
set to release summer 2013 ~ cooking demo in your community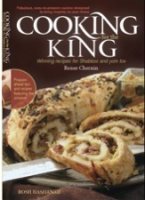 Cooking for The King, the Rosh Hashanah Simanim, (Brand Name Publishing) will iy"H be the first in a series that will be your yom tov companion for decades to come. It's the book I've always wanted to have for myself and share with others. It includes over 50 of my best tested Rosh Hashanah recipes and well researched Torah insights into food and eating. Served up in a beautiful package for you, queen in the kitchen.
This Elul/August, I plan travel the US and Canada, presenting cooking demos and promoting my first book. It would be my pleasure to bring a You are the Queen in the Kitchen Demo to your community. Please contact me here for how to help make that happen.
Tune it to this video taste of the tour~ Highlights from my Pesach You are the Queen in the Kitchen cooking demo for L'ayla at the OU Center in Rechavia last month. Jerusalem area ladies, please plan to come to my next L'ayla demo May 9, 10:30 am "Salads, salads and more salads" (or "What to do after a successful trip to the shuk!")
I hope to see you there~

~
Not in Jerusalem? Here's how to bring a
Cooking for The King demo to your community~~

Thank you for subscribing, I truly enjoy having you in my kitchen with me.
~Renee

www.thekosherchannel.com
renee@thekosherchannel.com
Cooking for The King:
The book of Torah insights, recipes and practical tips designed to bring majesty to the mundane.