BS"D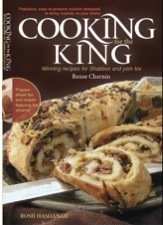 I am so pleased to announce that I've published a very special cookbook for TheKosherChannel readers. Cooking for The King ~the Simanam, an excerpt from the comprehensive kosher cookbook that I've been working on for several years. When I realized how much I wanted to get the information out to women even before I publish, that's how The Kosher Channel began.
In this edition, you'll find recipes and essays that have to do with the simanim, special foods we eat on Rosh Hashanah. This is the time of year we truly experience Malchus, Nobility, and why not in the kitchen where we women spend so much of our time?
The recipes have been praised as "practical and down-to-earth, using lots of regular ingredients." Many of them already appear on The Kosher Channel, but there is much never published material. There's still nothing like having a book in our hands to read and recall whenever we want.
Most importantly, I hope every Jewish woman will read, share and be uplifted by the essays throughout the book. Hashem gives us potent messages in the beautiful tasty foods He provides. In this book, soup teaches us about relationship and avoda, service, fish about sharing our gifts, and the pomegranate about how our mundane acts add up to something magnificent.
The book is out now. It is $18.00 plus shipping. Shipping takes 3-5 days. I hope you'll take a look and order. Please order a few, they'll also makes great Yom Tov gifts for your favorite queen in her kitchen!
Here are your links to all the Rosh Hashanah recipes on TheKosherChannel.com. I do hope you'll order the book and enjoy every page.
The larger project, Cooking for The King is a work in progress. I'd really appreciate your suggestions and comments on this excerpt. It will help to make the 300+page book, so much better.
Thank you for subscribing, I truly enjoy having you in my kitchen. May you be written and sealed for a sweet new year.