BS"D


I hope you had an amazing Passover, helped by your Queen in the Kitchen Passover Cooking Guide. How quickly the week went by! Now it's time to capitalize on the abundance of spiritual opportunities poured into the days of Pesach. In Judaism, we do this by taking concrete action. One way to acknowledge our dependence on the Almighty for everything in our lives is to make Shlissel Challah.
Shlissel or Key Challah, makes the first challah we taste after Pesach even more special. This is a well observed custom that you might want to try for yourself.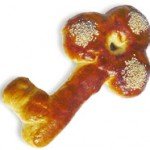 The practice is considered a segula, good omen, for parnassa, or livelihood. But it is really so much more. See "The Kosher Channel Shlissel Challah video to see how to shape your key challah and learn why Jewish women for generations value making their own Shlissel challah this erev Shabbos.
PLUS: I hope you'll enjoy the experience of baking challah more with my tried and true, very special challah recipe
Thank you for subscribing, I truly enjoy having you in my kitchen with me.
~Renee
renee@thekosherchannel.com
Cooking for the King, recipes for life

Cooking for The King:
The book of Torah insights,
recipes and practical tips
designed to bring majesty to the mundane.

Now booking the "Success in Elul-in and out of the kitchen" cooking demonstration and book tour for late August -September 17, 2014.
Learn more about Renee's demo tour here
Exciting news! The second edition of Cooking for the King is in the works. This time it's for Chanukah, featuring dairy dishes and fearless frying, of course. Want to be a tester? Contact me here to find out more: Yes! I want to be a Queen in the Kitchen recipe tester!.