Rainy Day Recipe
~easy comfort food when you don't want to go outside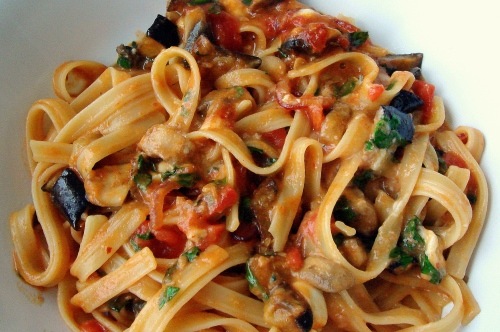 Pasta is a perfect rainy day recipe to make anytime you crave comfort food, like on a rainy or snowy day when you certainly don't want to go out of the house.

You probably have all the ingredents on hand, and if not, I've listed a number of substitutions. Recipes are not set in stone, so use what you have in your pantry and ingredients (like your love) that your family enjoys ~because..... YOU are the Queen in the kitchen.

12 roma tomatoes, quartered or
1 (28 ounce can) whole or diced tomatoes, drained

1/2 cup plus 2 tablespoons olive oil

1 tablespoon balsamic vinegar

1 tablespoon tamari or soy sauce or
Worcestershire Sauce

6 garlic cloves, chopped, divided

1 (16 ounce package) campanelle or other sturdy pasta:
penne, corkscrew, linguine
cooked according to package directions, drained

16 brine cured black olives, or green or Spanish olives pitted and roughly chopped
or 2 tablespoons olive paste or tapenade

1/2 teaspoon zchug or harissa or Chinese chli paste or
1/4 teaspoon cayenne pepper, optional

4 tablespoons chicken or vegetable broth or
juice from drained tomatoes, or reserved water from cooking pasta

1/4 cup fresh or frozen herbs of choice: basil, thyme, rosemary or
1 tablespoon dried

1/2 teaspoon salt

1/4 teaspoon black pepper

shredded or crumbled cheese of your choice

1. Preheat oven to 400 degrees and position rack in uppermost slot. Place tomatoes in a large bowl with 1/2 cup oil, vinegar, tamari or soy sauce and 4 minced garlic cloves. Toss well. Transfer to a large baking pan and spread into one layer. Roast for 30 minutes. Meanwhile prepare pasta according to package directions.

2. Place remaining ingredients in the bowl. Toss to completely coat pasta. Add tomatoes with juices and season to taste with salt and pepper. Serve with cheese if desired.

Makes: 4-6 servings ~ Can make ahead
Active time: 20 minutes ~ Cooking time: 30 minutes

Did you know that The Kosher Channel has some good reading (and some very comforting soup ideas) in addition to this rainy day recipe to brighten any day?
---
Cooking for The King: The book of Torah insights, recipes and practical tips designed to bring majesty to the mundane.