Winter Vegetable Fritters
~ Potato Zucchini Latkes with Carrot & Parsnip ~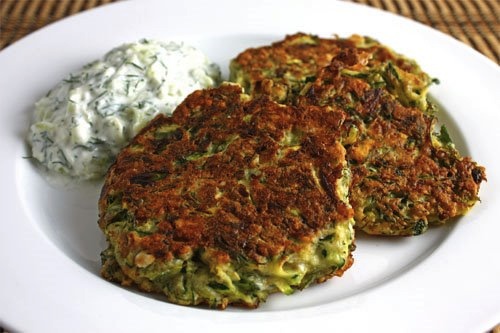 These Crispy Potato Zucchini Latkes get an interesting flavor boost from parsnip and a little color from carrots. The lacy rounds disappear like magic with or without the Dill Sauce (recipe at the bottom of the page) I usually serve alongside. The rich colors compliment your Sukkos menu, and Chanukah latkes were never so delicious.
Winter Vegetable Fritters ~from Cooking for The King
1 large potato, peeled and finely shredded
2 zucchini, shredded
2 carrots, peeled and finely shredded
2 parsnips, peeled and finely shredded
1/4 cup flour
1/4 cup fresh dill, chopped or 1 1/2 tablespoons dried
2 green onions, chopped (about 1/4 cup)
1 teaspoon salt
1/2 teaspoon pepper
2 eggs, beaten
1/3 cup vegetable oil
1. Prepare a place to drain latkes: line a baking pan with several layers of newspaper and cover with a layer of paper towels.
2. Wrap shredded zucchini in a clean kitchen towel and squeeze to remove as much moisture as possible. In a large mixing bowl, toss together shredded vegetables, flour, dill, green onions, salt and pepper. Stir in eggs and mix well.
3. Heat a large non stick skillet over medium high heat and add enough oil to thinly coat the bottom of the pan. When oil is very hot, drop vegetable mixture by heaping tablespoons into pan. Flatten a little to spread into uniform patties. Cook until brown, about 3 minutes per side.
4. Remove with a small, slotted spatula and drain in prepared pan. Repeat with remaining batter, adding oil to the pan as needed to prevent fritters from sticking.
4. Serve warm with Dill Cream Sauce.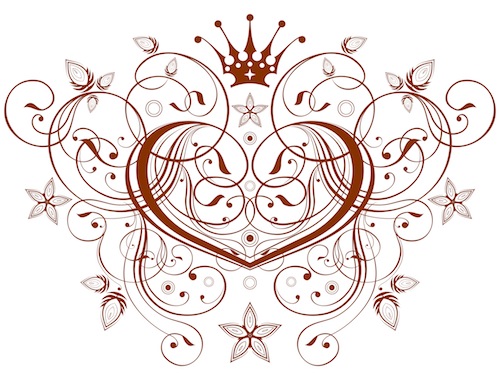 QITK tip: (Queen in the kitchen tip): After step 4, you may freeze the fritters. Place in layers in a baking pan, with aluminum foil between layers. Freeze several hours. Remove from freezer, quickly place in a large freezer bag and return to freezer. They will keep about 6 weeks. To reheat: Preheat oven to 400 degrees. Place frozen fritters in one layer on a baking pan in. Bake 5-10 minutes.
Makes: 12-15 servings ~ Can make ahead
Active time: 45 minutes ~ Can freeze
The Dill Cream Sauce ~from Cooking for The King
3/4 cup (pareve) sour cream
3/4 cup mayonnaise
1/2 cup water
1 1/2 tablespoons lemon juice
1/3 cup fresh dill, chopped 2 tablespoons dried
1 teaspoon garlic powder
1/2 teaspoon salt
1/4 teaspoon pepper
1. In a medium bowl, whisk together all ingredients. Refrigerate until ready to use.
2. Refrigerate tightly covered sauce for up to for two weeks.
Makes: 2 cups, 16 servings
Can make ahead ~ Active time: 10 minutes
A queen in her kitchen only makes be one
potchke
recipe per meal. Frying latkes always takes time and tending. With that in mind, I suggest you make this simple
Chicken and Wild Rice Pilaf to go with Potato Zucchini Latkes
. You can make both recipes ahead of time. It's all you need for an elegant, delicious Chanukkah, Sukkos or Shabbos meal fit for a king.
---
Cooking for The King by Renee Chernin
The book of Torah insights, recipes and practical tips
designed to bring majesty to the mundane.