Chicken and Wild Rice Pilaf
an easy, elegant chicken and rice recipe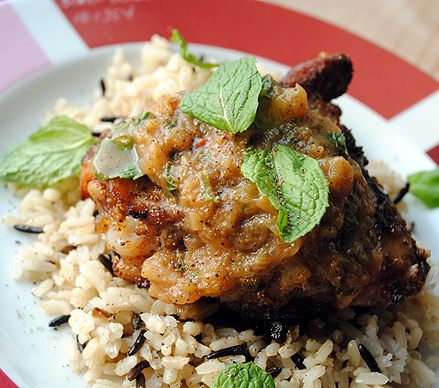 A simple chicken and rice recipe elevated to elegant!
This delicious chicken recipe is inspired by the entree our daughters insisted I request from a family who invited us for a memorable Shabbos Chanukah meal in Atlanta.
It is easy, sweet and elegant-just like our hostess. 
---
Chicken and Wild Rice Pilaf~ 

8 boneless chicken breast halves, tenders separated
3 tablespoons olive oil
1/2 cup flour
3 large onions, peeled, halved and thinly sliced

1 cup brown sugar
4 tablespoons tamari or soy sauce
1 (6-10 ounce package) wild rice pilaf, prepared according to package directions
1/4 cup Craisins or diced apricots
1. Preheat oven to 350 degrees. In a large skillet, melt olive oil over medium heat. Dredge chicken in flour and immediately place in sizzling pan. Cook in batches until golden, 2 to 3 minutes per side. Remove browned chicken to a platter.

2. Place onions in same skillet over medium high heat. Cook uncovered, stirring often until golden. Add brown sugar and tamari or soy sauce, increase heat and stir until the sugar melts into the onions. Remove from heat.
3. Spread prepared rice in a 9" x 13" ovenproof baking dish. Sprinkle dried fruit over the rice. Arrange chicken on top of rice then evenly spread with the onion-sugar mixture. Cover and bake 20 minutes in the preheated oven. 
Makes: 8 to 10 servings ~ Can make ahead
Active time: 30 minutes ~ Cooking time: 20 minutes

---
---