Blazing Chicken Kabob Recipe

& don't miss the cooking video below..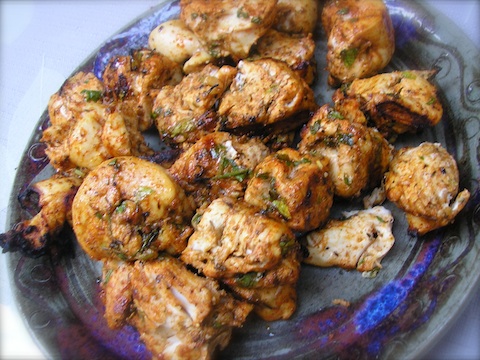 The Kosher Chicken Kabobs 
6 boneless chicken breast halves, tenders separated
2 teaspoons paprika
2 teaspoons ground cumin
1 teaspoon ground thyme 
1/2 teaspoon crushed red pepper flakes
~less, if you just want heat, not fire
4 garlic cloves, roughly chopped

1 teaspoon kosher salt 
1/2 teaspoon coarsely ground black pepper
1/3 cup olive oil
1 1/2 tablespoons lemon juice, from 1/2 lemon 
2 tablespoons fresh parsley, chopped or 1 teaspoon dried parsley

1. Preheat oven to 350 degrees. In a small oven proof pan mix together paprika, cumin. thyme, red pepper flakes. Toast spices in preheated oven 1-2 minutes until fragrant. 
2. Using a mortar and pestle or the flat side of a large knife, mash together the garlic cloves and salt until a paste forms. Transfer to a small bowl or measuring cup and mix with toasted spices, black pepper, olive oil, lemon juice, and parsley. 
3. Cut chicken into 1 1/2" cubes. Place in a large sealable plastic bag or storage container with a tight fitting lid. Pour marinade over all. Cover, shake to coat well and refrigerate several hours to overnight. 
4. Spray cold grill grates with nonstick cooking spray and preheat medium high. Using metal skewers or bamboo ones which have been soaked in warm water for 30 minutes, skewer chicken. Discard marinade. Grill 3 minutes per side or until firm to touch. Alternatively, broil skewered chicken in a pan placed on the second shelf of the oven for 3 minutes per side or until firm and well-browned.
Makes: 6 to 8 servings ~ Must make ahead
Active time: 30 minutes ~ Marinate 4 to 24 hours
How to make Cooking for The King's Blazing Chicken Kabob

If video does not show in the above space, click here.

---
Recommended: Make Middle Eastern Chicken Kabob part of your  Lag b'Omer menu~
---