What Women are Saying...
about Cooking for The King

& theKosherChannel.com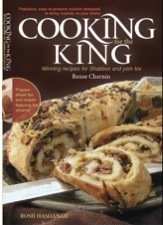 Cooking for The King are the cookbooks I've always wanted to have for myself and share with others. They are the books women I respect have asked for.

Every recipe can be made with ingredients from your pantry and in a trip to one grocery store.  The recipes are straightforward, no fancy equipment required. There are menu ideas,  preparation tips, substitution suggestions and make ahead recommendations.
Plus, they are chizuk, they are elevating. Sometimes funny and sometimes serious. They speak to who we are and who we really want to be. As one reader put it, "It's a sefer for women, disguised as a cookbook!"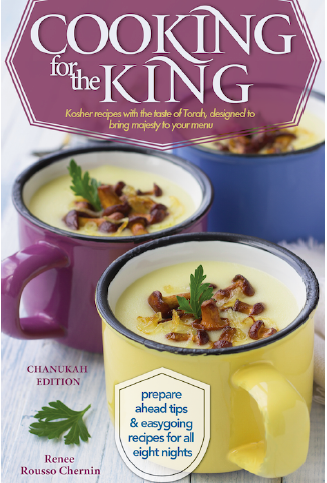 And of course,  they are lovely to look through.  Each are about 120 pages with beautiful full color photos and layout on rich pages. Designed for you to enjoy both in and out of the kitchen.
You see, I've been listening to what women are saying. That is why I wrote these books. I truly hope you enjoy being Queen in your kitchen, Cooking for the King. 
---
Clearly, eating is one of the great physical pleasures in life. One can engage it in its most basic form, simply indulging at will--or use it to build a bridge between heaven and earth. Renee Chernin, in her book Cooking for The King, proves to be an expert in building this bridge.-Rebbetzin Feige Twerski,Milwaukee, WI
---

I answer all my emails and welcome what you have to say.  Read below to see what women are saying about TheKosherChannel and Cooking for the King...
Your site is really wonderful, answering a real need for Jewish women. The English is excellent - lucid, flowing, and rich in content. I automatically edit everything I read, and I found your writing fascinating and flawless! Your "Holy Chow" is an example of a combination of literary expertise and humor. I loved it. May you have great success in your online project and in the publication of the book.-Naava, Jerusalem
Your website is really great - the best I've come across....I hope I have other reasons to use the Kosher Channel in future and that your excellent book comes to fruition.-Chaya Baumwolspiner, Columnist, The Lakewood Shopper
Your site looks beautiful, I got myself a cup of tea and I'm going to definitely check it out. I sent it to a friend who was also at the Shabbos table last week who was very interested and my daughter who I know will love it!(they both love to cook/bake as opposed to me!)-Miriam, Canada
My friend, Miriam just sent me your link and I have to say it has turned my crazy hectic day into pure sunshine ( I am actually giddy). I love to cook!! I read cookbooks for my down time treat to myself. The flavor of humor mixed with jewish tam makes your site an absolute delight! I sincerely want to say thank you for this gift. I am hoping that you will publish a cookbook as I can't wait to indulge myself in every page! Sincerely, Chavie, USA
I really enjoyed the way you wove Jewish sources in with your balanced, practical, real life wisdom...Tsipporah, USA
.....just saw your site & i love it!-Judy,USA
I am not quite sure how I stumbled upon you website but it is wonderful! I have enjoyed reading your recipes and watching your videos. What a wonderful blessing you have given all who share in it! As my Grandma Sarah would say... "Bendichos Monos" Blessed Hands!  I woud love to buy a copy of you book, Cooking For The King.-Rosie, USA
I just watched your Easy Vinaigrette video...yasher koach!!! It was SO professionally done...beautiful...I loved it. S.M., Israel
How can I get a copy of your book sounds interesting. Please let me know.-Elise Z., USA
I wanted to drop you a note to let you know that I so enjoy your kosher channel site. In fact, my entire Shabbos meal this week for our family and many guests will be from your site! We love so many of your recipes!-Julie S., USA
incredible! easy to prepare-Laurie, USA
Thank you for a beautiful Shabbas.... I used 3 of your recipes on thekosherchannel.com. They were Delish!-Alison, Israel
Renee, the moment I read some of your delicious recipes on your web site, I immediately went to Amazon.com to order your book, Cooking for the King. I have many kosher cook books but none of them mix your wonderful recipes with the Torah background that adds considerable interest to them. It heightens their enjoyment as I contemplate them in print.-A.B.,USA
After watching the last video on cooking with fennel, I wanted to let you know how much I enjoy watching your videos and receiving your kosher channel information. I love the recipes and so does most of my family.The backround information and divrei Torahs are inspiring. Who knew cooking could be elevated?-Sandy, USA
I just found your website while looking for a challa recipe. How much is your cookbook? Where can I find it? Thanks,Orly, USA
Love this! Fantastic.-Jenny, USA
I would like to begin by saying THANK YOU SO VERY MUCH for all the hard work you do. I love every bit of this web site and my family enjoys the recipes immensely. -A.R.,USA
Awesome. I love trying to cook with new recipes. Especially yours. -Andrea, USA
It is nice finding you on the web. I'll pass it around. Linda, Chicago
...what comes from the heart goes to the heart. yasher koach on all you are doing :-)-Lori, USA
"I love the KosherChannel.com! It is such a thrill to receive my newsletter as I'm preparing for a holiday or Sabbath. Always alerting me to new ideas and ways to grow - both in the kitchen and in life."-Melissa, USA
"I must thank you for your unbelievable recipes. I find them truly amazing!"-Tali, Israel
"I am going through some sad times... just knew that I needed to make soup...Chicken soup....I searched around for a good recipe wanting to try something different. And I just wanted to tell you that I found more than just a recipe on your site.......blessings......and thank you."-Suz, USA
What a delightful discovery. Thank you!-Geri, USA
Love your Newsletter! Just read it this AM. I am so excited to try out some of your recipes with the added energy benefit of cooking with a deeper purpose. You continue to create wonderful inspirations!-Alicia, USA
"Seriously, I am the last to know about this? It's a fantastic website!"-Michelle, USA
I am excited to try the recipes on the Kosher channel and share them with family and friends. Thank you!!!!-Elana, USA
Renee's writings and recipes are fit for royalty! The Kosher Channel is a superb website, complete with wonderful recipes for food and much food for thought. She is truly the queen as she shares her beautiful words in Cooking for the King.-Roberta, The Kosher Eye.com
Your cupcakes were so fantastic that my youngest son (he's 14) said in all the years I've never made such good chocolate cake - which is funny as I've made loads of chocolate cakes and they all took much longer than your recipe.-Chaya, USA
Made your Smothered Chicken from "Cooking for the King" for Rosh Hashona dinner. I got rave reviews! Thanks and have a very healthy happy new year!-Tracy, USA
I love your site. I have a jewish food blog, called koshernow.info. May I use your Tu b'Shvat recipe on my site?-Denise, Canada
"Yum!!! I can't wait to try this Meat Roualde recipe on Pesach - with Matzo meal, of course!"-Rivkah, Israel
I like cooking for the King!!! original-Yael, Culinary Kosher
I just discovered this website and I am starting to read through all the wisdom and explanations here. Thank you for this education. -Eileen, USA
I'm very excited about this website, I can't wait to relax (what does that mean?) with a cup of coffee and browse. -Dini, USA
I love your site, you are so talented!-Cindy, Israel
What a great job. If there's a way to sign up to receive more of your thoughts/recipes, etc., please place me on your list. -Thanks.-Arlene, USA
I love it!!!  -Nava,Israel
I especially liked the way you took very traditional and well known recipes, such as Julia Child's boeuf bourguignon and my particular favorite, southern style sweet potato pie, and show how these can be made the kosher way. After a shopping expedition today to my favorite kosher market, I am preparing to make honey chicken. Keep up the good work. A.B.,USA
I just want to say I love the thoughts to have in mind when making challah and I know it will be bringing me closer to Hashem! Thank you, Abby, USA
I just wanted to let you know what a Mitzvah Lady you are. I used about 5 of your recipes for Shabbos, everyone was so happy with all the delicious food , because of you! I just wanted to say that I really love your website and all the recipes! I always look forward to the updates. -Amalya, USA
I found your website from a post on imamother.com, I loved and your website and I would love to hear about the cook book sales when it gets published I'yH. -Deidra, Israel
Thanks so much for that newsletter, I'm was just wondering exactly what the significance of the key was! Shalom, Shayna, USA
I just wanted to thank you for helping make our Yom tovim so much more meaningful and delicious by sharing your beautiful Cooking for the King.-Jennifer, USA
It is wonderful your delicious recipes and learning at the same time a little from Torah.-Esther, USA
Just a big thanks for your recipe of the puree, it was delicious and I had a lot of success with.-Sophie, Jerusalem
Wow. What a wonderful site with great chizuk.-A.S., Jerusalem
---
add your own comments...
---