Tu b'Shevat Salad




a salad with all the 7 species of Israel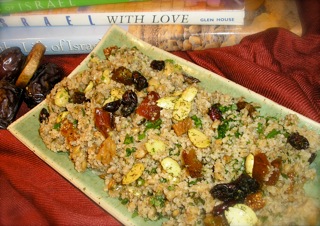 Lovely tabouleh recipe for a Tu b'Shvat salad. Celebrate with the Seven Species that praise the Land of Israel and get ready for accolades from your friends and family.
This Tu b'Shevat salad is a beautiful and delicious way to celebrate the festival. On this day the Sheva Minim or Seven Species, are traditionally eaten as part of a festive meal. It's a great time think about your love for Israel, and the "cherished land" where all sorts of good produce (including you!) can grow.

---
7 Species Salad~  for tu b'shebat
2 tablespoons olive oil

1 large onion*, chopped

1/2 cup pearled barley*

1 cup water or broth

1/2 teaspoon salt

1/4 teaspoon pepper

3/4 cup fine bulgur wheat*

1 1/2 cups boiling water

1 teaspoon zaatar

1/4 cup dried figs*, diced

1/4 cup raisins*, diced

1/4 cup dates*, diced

1/4 cup brine cured black olives, pitted and chopped

1/2 cup parsley*, chopped

1/4 cup mint*, chopped

1/4 cup toasted almond slivers or pine nuts, toasted

Pomegranate Vinaigrette:


1/4 cup pomegranate juice

1/4 cup red wine vinegar

1 small shallot*, minced 

2 tablespoons honey

1/2 cup olive oil
1. Heat oil in a large heave saucepan over medium heat. Add onion and cook, stirring about five minutes until translucent. Add barley and stir for five minutes until golden. Stir in water or broth, salt and pepper. Bring to a boil, lower heat and cover. Cook for 40 minutes until barley is tender. Uncover and fluff with a fork. 

2. Place bulgur and zaatar in a heat resistant mixing bowl. Pour boiling water over the wheat and stir. Cover loosely and allow to sit for 20 minutes. Uncover and fluff with a fork. The water should be absorbed. Combine with barley and chill thoroughly.
3. In a small bowl or shaker container, whisk or shake together the dressing ingredients. 
4. In a large bowl, toss together the barley mixture, dried fruit, olives, parsley, mint and almonds or pine nuts. Toss salad with just enough dressing to moisten. Best served at room temperature.
Makes 10-12 servings ~ Can make ahead
Active time: 15 minutes ~ Cooking time: 45 minutes
---
| | |
| --- | --- |
| | QITK Tip:  *There is a strict Torah prohibition against eating insects, and WOW is Tu b'Sevat our opportunity to observe this mitzvah! Fruits and nuts often harbor insects which, when eaten, clog our spiritual arteries. Read about that here. |
 So, with simcha (because it is a mitzvah, after all), learn from your local kashrut commission such as the CircleK in the US or English and Hebrew poskim in Israel how to check and remove any undesirable elements and enjoy the best Tu b'Shvat ever~

---
---
Here are more Tu b'Shvat Recipes from The Kosher Channel & Cooking for The King. Just for you~ Queen in your Kitchen.