Sephardic Rice
a.k.a. "Pink Rice" from the Jews of Rhodes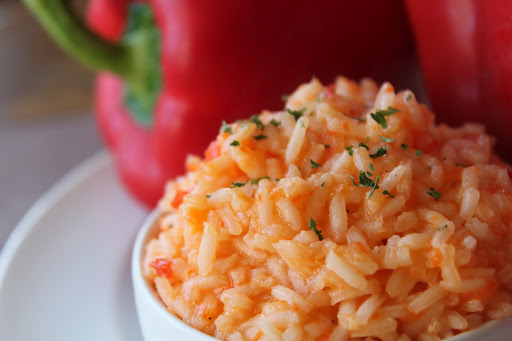 Our family's recipe for Sephardic Rice is a true comfort food to me. It is an easy rice recipe that was the first dish my mother taught me to cook.
Rice is a staple in the Middle East, and this recipe is especially favored by the the Greek Jews of Rhodes, where my grandfather was born.
Serve Sephardic Rice with this okra recipe from the Jews of Rhodes.
SEPHARDIC PINK RICE
1 cup long grained white rice, washed
1 onion, chopped
1 tablespoon oil
2 cups water
1 tablespoon ketchup
2 teaspoons salt
1. In a medium pot with a tight fitting lid, heat oil, rice and onion over medium high heat. Stir to coat rice with oil and cook about 5 minutes, stirring often until rice and onion are translucent. 

2. Add water, ketchup and salt. Stir once, lower heat and cover. Cook without peeking for 20 minutes. Uncover, fluff rice with a fork and let sit 5 minutes with the lid on slightly ajar to allow steam to escape.
~makes 3 cups cooked rice~
photo credit: http://meatlessmealsformeateaters.blogspot.com/
---
Cooking for The King by Renee Chernin
The book of Torah insights, recipes and practical tips
designed to bring majesty to the mundane.