Herb Turmeric Rice —Persian style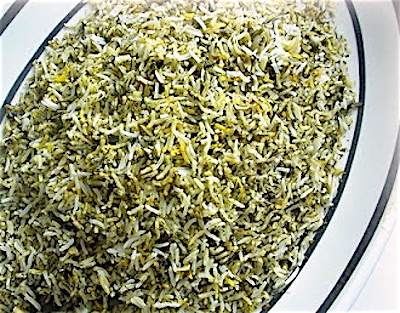 A simplified version of Persian herb turmeric rice called Polo (po-la). My Sephardic roots are Spanish; and while rice is a staple, it is much less the centerpiece of our meals than my cousins from Iraq and Iran.  Sticking to my simple recipe principles, I "dumbed down" this recipe as much as I could and still receive rave reviews. 
---
simple Persian polo
6 cups water
 4 cups uncooked long-grain Basmati rice
 5 tablespoons vegetable oil
 1/2 cup chicken or vegetable broth
1 bunch fresh dill, chopped
 1 bunch fresh parsley, chopped

 1 bunch fresh cilantro, chopped
 1 teaspoon ground turmeric
 1 teaspoon salt
 1 teaspoon pepper
 1. Rinse rice until water is clear. Drain well.
2. In a large saucepan over high heat, bring water to a boil. Stir rice into boiling water. Boil uncovered just until rice rises to the surface of the water and you see lines appear on the grains. Drain.
3. Place the pot over medium heat and return rice to the saucepan. Stir in the oil and broth. Mix in the dill, parsley, cilantro, turmeric, cinnamon, salt and pepper. Cook the rice uncovered for 5 minutes
4. Reduce heat to low. Place a thin kitchen towel or paper towel over the pot and cover with a well fitting lid. Simmer for 40 to 45 minutes.
Makes 12-15 servings
Active time: 20 minutes    Total time: 1 hour and 15 minutes
QIK tip: The bottom of the pan will be lined with crispy rice, a prized addition called Tadig. If you have a hard time getting the rice from the bottom of the pot can use this little secret...Once that crispy rice/tadig is done run some cold water in the sink and put the bottom of your hot pan in it...It will be much easier to remove. 
---
---
                serve Persian Style Herb Turmeric Rice with your Persian Purim Themed meal for Purim.....