Kosher Chicken & Dumplings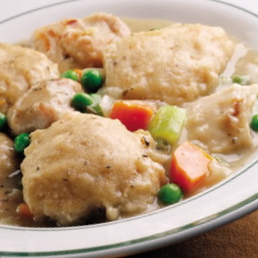 Another southern classic, turned kosher for the Jewish queen in the kitchen. This Kosher Chicken and Dumplings Recipe is an economical way to feed a crowd, especially if they are a batch of hungry kids and men. 
Make your own stock and chicken the old fashioned way like when grandma worked around the house all day. That stew simmering on the back of the stove smells like love.
A Jewish woman knows that taking care of her family is the biggest chesed, kindness. When you make any dish with warmth~ whether it's a bowl of cereal or a favorite dessert~ and share it with a smile, your love will always be delicious taste they remember. 

---
kosher chicken & dumplings recipe
1 (2 1/2 -3 pound) chicken 
1 teaspoon salt
1/2 teaspoon pepper
1/2 teaspoon dried basil
1/4 teaspoon dried thyme
2 bay leaves
juice of 1/2 lemon, about 2 teaspoons
3 carrots, cut into 2-inch pieces
2 celery ribs, sliced or 2 medium leeks, white and light green parts only, cut in half lengthwise and then into 1-inch pieces
1 large onion, cut into 8-10 chunks
1 (10 ounce) package frozen peas & carrots, optional
DUMPLINGS:
1 1/2 cups flour
2 teaspoons baking powder
1/2 teaspoon salt
3 tablespoons margarine, softened
3/4 cup pareve milk or cream, do not use low fat
1/4 cup fresh parsley or tarragon, minced or
1 tablespoon dried
1. Place chicken in a soup pot and cover with water, about 6-7 cups. Over high heat, bring to a boil, lower heat, cover and simmer for 1 to 1-1/2 hours until chicken is tender. Skim fat and remove chicken and bay leaves from broth. Discard bay leaves.timesaver tip: use planned over or rotisserie chicken and your favorite prepared chicken broth. 
2. Add next nine ingredients. Cover and simmer over medium heat for 15-20 minutes until vegetables are tender. Season broth with salt and pepper to taste. 
3. Meanwhile, when chicken is cool, debone, cut into chunks. 
4. 15 minutes before serving, make dumplings: Combine flour, baking powder and salt in a bowl. Using a fork, cut in margarine until mixture resembles coarse crumbs. Stir in pareve milk and parsley until mixture is fully moistened, do not overmix. 
5. Add peas & carrots if using, and return chicken to simmering broth. Scoop a generous soup spoon full of batter and using another spoon, push dumpling into broth. Repeat with remaining batter. Cook, uncovered, for 10 minutes. Cover and cook for 8-10 minutes or until the dumplings are tender and doubled in size. All you need now to enjoy your kosher Chicken and Dumplings is a shallow bowl, it's a one dish meal!
makes 6-8 servings ~ can make ahead, partially
cooking time: 2-3 hours ~ active time: 30 minutes
---
Looking for more homey recipes like kosher Chicken and Dumplings? We have them here! And look for more in a future Queen in the Kitchen newsletter: sign up below get your free copy with the next mailing~
---