My Best-Selling Recipe for Carrot Salad
another catering secret revealed
I've played around with the ratio of ingredients in my recipe for carrot salad and tak my advice, you'll enjoy great results if you stick with this tried and true combination. Tip:be careful not to grind the carrots finely, it's best if the pieces are about the size of dried lentils. Carrots hardly need an introduction. They have long been a favorite of ....
The Carrot Salad~from Cooking for The King
10 carrots, peeled and cut into 2" pieces
1/4 onion
1 clove garlic
1 stalk celery cut into 2" pieces, optional
1 teaspoon rice vinegar (or lime juice)
1 teaspoon garlic powder
1 teaspoon sugar
1/2 teaspoon salt
1/4 teaspoon pepper
1/2 cup mayonnaise
1. Place carrots, onion, garlic, celery, vinegar, garlic powder, sugar, salt and pepper into the work bowl of a food processor. Pulse until carrots are coarsely chopped. Add mayonnaise and pulse just until distributed evenly. The carrots should remain coarse.
2. Before serving, adjust seasoning by adding more salt, pepper and/or sugar as needed. It's best to make this recipe for carrot salad a day ahead and it even gets better when kept tightly covered and refrigerated for several days.
Makes: 4 cups, 8-10 servings
Can make ahead ~ Active time: 10 minutes
Passover Recipe
Moroccan Carrots are another delicious and simple recipe for carrot salad. See all the carrot recipes on TheKosherChannel right here!.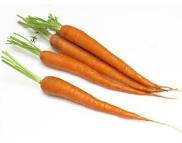 ---
Cooking for The King by Renee Chernin
The book of Torah insights, recipes and practical tips
designed to bring majesty to the mundane.