Twice Baked Potato Recipe




plus a copy cat recipe for an essential ingredient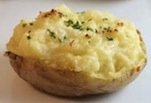 This twice baked potato recipe is a great make ahead recipe. I make a couple of recipes every holiday and really enjoy having the leftover potatoes on hand the next week.

It is a treat to have in the freezer as a ready side dish or snack. Your family will be thrilled to see them at mealtime, just add a large salad or a bowl of soup to make a well rounded, filling dinner.

Stuffed twice baked potato recipe
6 large baking potatoes, uniform size and shape

olive oil
kosher salt
3 tablespoons (pareve) sour cream
1 (1 ounce) envelope dry vegetable soup and dip mix*
1 stick margarine
1/4-1/3 cup warm water 
dried parsley &paprika, for garnish
1. Preheat oven to 400 degrees. Sprinkle the bottom of a large baking pan with a fine layer of kosher salt. Wash and dry potatoes. Pierce several times with a fork then rub each potato with oil. Arrange potatoes on top of salt in the baking pan. Bake one hour or longer in the preheated oven until a fork is easily inserted and meets no resistance. The salt draws out moisture, making the pulp very fluffy and light.

2. Remove potatoes from oven. Brush off salt. While still hot, halve each potato lengthwise with a sharp serrated knife. Use an oven mitt to hold potato and be careful not to tear the potato skins. Scoop out the potato pulp leaving 1/4" edge all around intact so that the potato keeps its shape. Place warm pulp in a mixing bowl.
3. Add sour cream, vegetable soup mix and margarine to the potato. Using a stand or hand mixer, whip potato mixture, adding tablespoons of water until creamy.
4. Spoon potato filling into shells. Sprinkle with paprika and parsley. (At this point you may freeze the potatoes. Allow frozen potatoes to thaw before heating in oven, or microwave frozen potato at half power until hot.) Refrigerate until ready to serve. Before serving, warm in a 350 degree oven for 10-30 minutes until thoroughly heated.
*Here's a copy cat recipe for dry vegetable soup and dip mix. A must try if you want to make this Twice Baked Potato Recipe kosher for Passover:
make ahead ~ Can freeze
Active time: 20 minutes ~ Cooking time: 1 hour or more
copy cat recipe:
"Secret Recipe Dry Vegetable and Dip Mix" mix well:
1/4 cup instant potato flakes

1 teaspoon salt

1 teaspoon garlic powder

1 teaspoon dried parsley

1/2 teaspoon dried dried basil

1/2 teaspoon dried dill

1/2 teaspoon onion powder

1/4 teaspoon white or black pepper
---
Cooking for The King by Renee Chernin
The book of Torah insights, recipes and practical tips
designed to bring majesty to the mundane.