Creamy Curry Gazpacho
a delicious new twist on a cool classic soup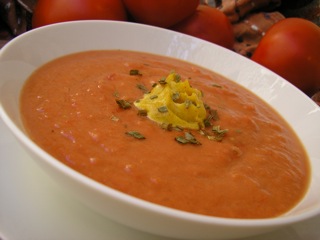 Think gazpacho is a potchke? Not this recipe; it tastes even better using seasoned canned tomatoes than fresh. Plus it's healthier because cooked tomatoes have a higher level of antioxidants than fresh. And who can argue? It's just so much easier to open a can!
See this gazpacho recipe from "Cooking for The King" at OU.org/cooking along with many other delicious kosher recipes from talented cooks you'll certainly want to try.
It's been said that "a world without tomatoes is like a string quartet without violins." So true. Just as a violin (or fiddle, if you will) is essential in classical, klezmer or country music, the tomato is integral to many a home cook's repertoire. They add color to our salads, are the basis for many delicious sauces, and without ketchup as a dip, would our kids ever eat broccoli? read more.
---
Cooking for The King by Renee Chernin
The book of Torah insights, recipes and practical tips
designed to bring majesty to the mundane.