The Salads Recipes and More
Eating is about connecting ~I hope you enjoy making these salads recipes. Sharing bowls of eye-appealing spreads, nibbles and dips together breaks the ice and bonds those around the table. Bonding with others is an important aspect of eating.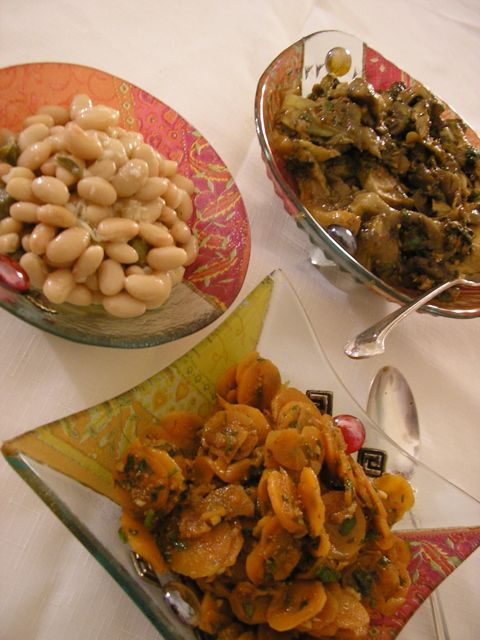 Below you will find links to fresh salads recipes: side dish salads as well as delicious kosher appetizer dips and spreads. The recipes are all from my cookbook, Cooking for The King , a work in progress. Although it's not quite ready for publishing yet, because you are visiting The Kosher Channel today, you can enjoy the yummiest of the recipes now!
So please come back often and you'll find new recipes I am adding weekly. And let me know what you think, I love getting your emails.
~Salads from Cooking for The King~
& TheKosherChannel.com
Sephardic Eggplant Salad ~Slow cooked salads are a hallmark of Mediterranean cooking. Long simmering allows the vegetables' natural flavors and a rich, smooth texture to develop.
The Onkeles Salad ~Clone of a classic favorite, but you'll have to read the story to understand!
Dead Sea Babaganoush ~creamy chunks of flavorful eggplant, accented with the mellow bite of roasted garlic and salt. This rendition is as close as I can get without going to Israel to get the original--something I highly recommend you do.
Corn and Tomato Salad~fresh and healthy, makes a delicious salad of summer's bounty of inexpensive corn
South African Tomato Salad~an interesting combination of flavors typical of South African cooking in the Jewish kitchen
Easy Vinaigrette Dressing~wondering exactly what is vinaigrette dressing? Here's the answer and a cooking video to show you how to make this easy, delicious sauce
Pareve Ranch Dressing~more than a salad dressing: it's a dip, a spread for wraps and sandwiches, a creamy pasta sauce... you'll want to think of new ways to use it. It's that good.
Toasted Barley and Pecan Salad~Often overlooked, barley is a wonderfully wholesome grain with a rich nutlike taste and a chewy, pasta-like texture.
Chick Chock Salad Mix~a great time and energy saving idea
Kohlrabi, Fennel and Carrot Salad~A typical Israeli salad, fresh and fuss free
Simple Fennel, Carrot & Cumin Salad & Video~Hear what Ramban has to say about the surprising properties of fennel. Two how-to recipes in this KosherChannel video.
Classic Chopped Israeli Salad~a very flexible salad and fun to experiment with
Sunny Quinoa Salad ~add any vegies you want to this brightly flavored salad or side dish
Renee's Table Carrot Salad ~tried and true combination of simple ingredients
Moroccan Carrot Salad~Bright and spicy
Japanese Ginger Salad Dressing~Kids love it, very versatile
Snappy Slaw~A salad that actually improves when made ahead
Citrus Slaw~pairs well with grilled chicken or fish
Looking for satisfying soups to accompany the salads recipes?

TheKosherChannel.com is the only kosher recipe website that recognizes the nobility of the Jewish woman's role in our homes. Join us as we raise our families and ourselves to our highest calling.
You are The Queen in the Kitchen.
---
Cooking for The King: The book of Torah insights, recipes and practical tips designed to bring majesty to the mundane.