Quinoa Salad Recipe
Queen in the Kitchen (your)Way~
This Quinoa Salad recipe fits the bill if your'e looking for a beautiful filling complement to just about any meal.

Quinoa is brimming with anti-oxidants, it is fiber rich and heart healthy, and also gluten-free. Add your favorite veggies, whatever you have on hand, to this brightly flavored salad recipe, and you'll have a hearty side dish, or serve it as a main dish salad.
Suggested additions: crunchy steamed broccoli, shredded fennel, kohlrabi or zucchini, oven roasted eggplant, canned garbanzo beans, tiny corns-Planned over chicken or crumbled feta cheese...I could go on...it's so easy to adapt this great quinoa recipe, Queen in the kitchen style~ your style. 

Sunny Quinoa Salad Recipe
Salad:
1 cup dry quinoa 
2 cups water
1 teaspoon kosher or sea salt

1/2 cup carrots, shredded

1/2 cup cherry tomatoes, halved 
1/3 cup parsley or cilantro, minced 
1/4 cup sunflower seeds, slivered almonds (Pesach) or pine nuts, toasted
Dressing:
2-3 cloves garlic, minced
juice of two lemons, or 1/4 cup bottled lemon juice
2 T olive oil
2 T tamari or soy sauce*

1. Heat oven to 350 degrees. Place sunflower seeds (almonds or pine nuts) in a baking pan in a single layer. Toast in over 8-10 minutes. Remove from oven and cool to room temperature. 
2. Rinse quinoa with warm water and drain through fine strainer.
3. In a large pot, bring water to boil. Add salt and quinoa, simmer uncovered for 10-12 minutes. Strain well.
4. While the quinoa is boiling stir together dressing in a large bowl. Add quinoa and remaining ingredients and toss well. Season to taste with salt and pepper. Serve at room temperature or chilled.
Active time: 15 minutes ~ Cooking time: 15 minutes
Serves 8-10 ~ Can make ahead, cannot freeze
a kosher for Passover Recipe*~use gluten-free Passover Soy Sauce Substitute
---
More delicious side dishes here...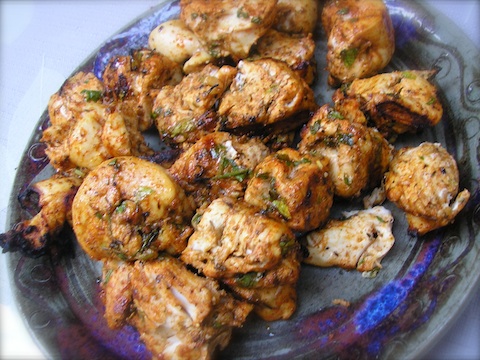 Moroccan Chicken Kabobs Main dish idea for Quinoa Salad recipe
---