Lemony Olive and Zucchini Couscous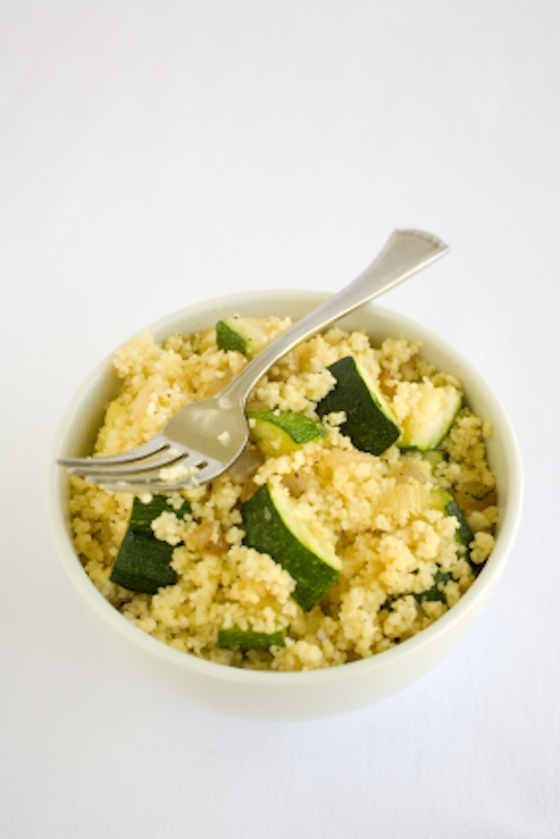 I adapted this lemony Zucchini Couscous recipe for Cooking for The King. It is from Better Homes and Gardens Prize Tested Recipes where it was a winner in the zucchini category in 2002. 
You may substitute mushrooms, broccoli, peas, legumes or even chicken. After all, YOU are the Queen in the Kitchen. I think it would even be good with quinoa in place of couscous. 
---
Zucchini Couscous with olives & lemon
2 cloves garlic, minced

1 tablespoon olive oil
3 cups chicken broth
1 cup green olives, cut up
1 (10 ounce) package quick-cooking couscous
3 medium zucchini, halved length wise and thinly sliced
2 teaspoons lemon peel, minced or shaved finely
1/4 teaspoon black pepper
4 green onions, thinly sliced
2 tablespoons fresh or frozen herb such as parsley, cilantro, mint, basil or rosemary, minced
Lemon wedges
1. In a large saucepan with a tight fitting lid, cook garlic in hot oil over medium high heat for 1 minute, stirring frequently so that it does not brown. Add broth and olives; bring to a boil. Stir in couscous, zucchini, shredded lemon peel, and pepper. Cover; remove from heat. Let stand 5 minutes.

2. To serve, gently stir in green onions and herbs. Serve with lemon wedges.
Makes: 8-10 servings ~ Can make ahead
Active time: 15 minutes ~ Cooking time: 5 minutes
---
photo credit istokphoto©Karcich
Cooking for The King by Renee Chernin
The book of Torah insights, recipes and practical tips
designed to bring majesty to the mundane.