Citrus Slaw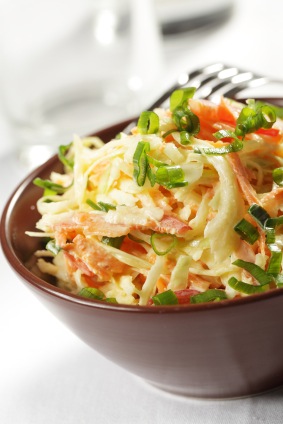 COLESLAW WITH CITRUS DRESSING RECIPE
4 cups shredded Napa or green cabbage
1 cup thinly sliced red bell pepper
1 tablespoon thinly sliced green onions
1/4 cup olive oil
3 tablespoons lemon juice
2 tablespoon orange juice
1 tablespoon honey
1/2 teaspoon salt, or to taste
1/4 teaspoon cracked black pepper
1/4 teaspoon crushed red pepper flakes, optional
1. In a large bowl, toss together cabbage, bell pepper and onion.

2. Place remaining ingredients in a container with a tight fitting lid. Tightly cover, shake well until blended and pour over salad. Toss.
serves 8-10 ~ can make ahead
preparation time 5 minutes
a kosher for Passover Recipe
photo: iphoto.com.© Lilyana Vynogradova
more coleslaw recipes and more salads.....
---
Cooking for The King by Renee Chernin
The book of Torah insights, recipes and practical tips
designed to bring majesty to the mundane.