South African Tomato Salad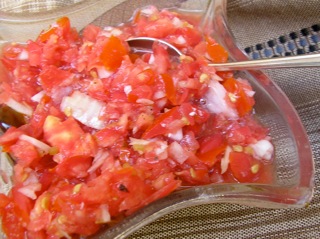 This lovely South African Tomato Salad typifies the mark the diaspora has made on Jewish cooking. Chutneys, curries and hot peppers play a large role in the South African recipes that Jewish homemakers brought with them to America.
I had this lovely salad while spending Shabbos in the home of true artist. Our hostess paints, sews wedding gowns for the brides of her sons and is a collector of exquisite textiles and serving dishes from her former Johannesberg home.
This salad is also a work of art--from the gardens of Hashem. Bright red summer tomatoes need little improvement but you'll be delighted with the kick and richness these simple ingredients produce when combined.

SOUTH AFRICAN TOMATO SALAD
6 large beefsteak tomatoes, quartered
1 onion, quartered
1 small jalapeño pepper, diced
1 teaspoon salt
1/2 teaspoon black pepper
1/8 teaspoon cinnamon

1. Place all ingredients in the work bowl of a food processor. Pulse until uniformly diced, do not puree.
2. Place salad in a plastic or glass container with a tight fitting lid. Cover and refrigerate several hours to overnight.
Makes 2 cups ~ Active time: 10 minutes
---
    Make this fabulous Fresh Salsa Fish with this South African Tomato Salad Planned Over Recipe...
---