Japanese Ginger Salad Dressing

versatile asian sauce to keep around for all sorts of deliciousness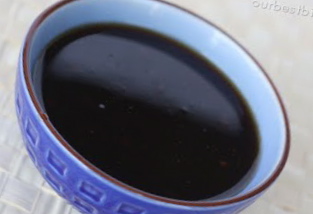 So many reasons to keep this Japanese Ginger Salad Dressing recipe in your fridge.  Toss with shredded cabbage and almonds or make an impromptu Asian noodle salad with spaghetti and whatever fresh vegetable you have on hand.
It's a dip for chicken, a sauce for steak, a marinade for fish. And it's family friendly because most kids like the  salty-sweet flavor balance characteristic  of Asian salad dressings.

We enjoy it often tossed with cooked green beans and top with sesame seeds. Once you try this delicious sauce, you might want to double the recipe and keep some on hand.  Endless ideas, email me for more...
---
Oh-so very versatile
Japanese Ginger Salad Dressing 
1/4 cup vegetable oil
1/4 cup rice wine vinegar
1/4 cup toasted sesame oil
4 shallots, or 1/2 small onion, peeled
1 clove garlic
1 1/2 inch knob ginger root, peeled
2 tablespoons tamari or soy sauce

2 tablespoons sugar or honey
2 teaspoons lemon juice
1/4 teaspoon chili flakes, optional
1. Place all ingredients in a blender or food processor and blend until smooth. Keep 
Makes about 1 1/3 cups  Active time: 10 minutes
Cover well and refrigerate until ready to use. Keeps for up to 2 weeks. 
---
more ideas with ginger and recipes for your inspiration....
---