Ginger Cookies
a.k.a.Gingerdoodles or 

Snickerdoodles' spicy cousin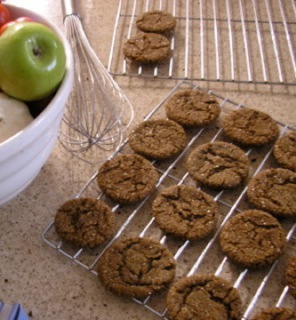 These complex yet light ginger cookies are the best thing to have around for unexpected guests. They get rave reviews every time I serve them and conveniently keep well in the freezer in either cookie or dough form.
It's a very forgiving recipe. I was able to make this a margarine free cookie recipe and they are still soft and chewy like my childhood favorite, Snickerdoodles.
Bake the Gingerdoodles just a bit longer and you will have something more like classic ginger snaps. Both versions of this classic cookie are easy and delicious.
Start with the recipe video, then try them and enjoy!
---
Recipe for GINGERDOODLES!
1/2 cup vegetable oil
1 cup sugar

1 large egg
1/4 cup molasses
2 cups flour
2 teaspoons baking soda
1/4 teaspoon salt
1 teaspoon each: ground ginger, cinnamon and allspice
Sugar
1. In a medium bowl, mix oil and sugar. Add egg & molasses & beat until smooth.

2. Measure flour, baking soda, salt and spices into the bowl. Mix well to incorporate.
3. Shape dough into 1" balls. Roll in sugar. Place 2" apart on parchment paper or lightly greased foil on a baking sheet.
4. Bake at 375 degrees F for 8-10 minutes, longer for a crispy ginger cookie. Remove to cool on wire racks.
Makes 4 dozen ginger cookies ~ Can freeze
Preparation time 15 minutes ~ Baking time 32-40 minutes
---