Inspired Chicken Soup




how it all began~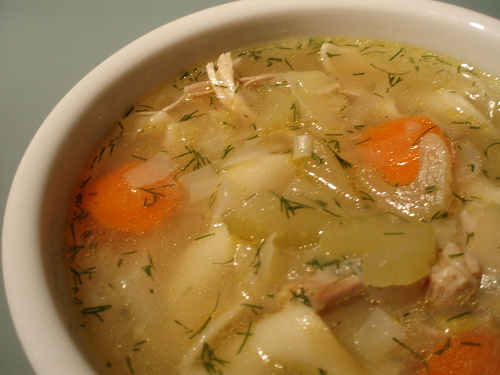 Every family has a kosher soup recipe treasure: chicken, cabbage, bean or mushroom barley. But Jewish cooking and chicken soup are synonymous, everyone knows. Since David told our Inspired Chicken Soup story on the Aish HaTorah movie "Inspired Too," women often stop me in the streets of Jerusalem to ask me for the recipe.
"You already have it!" I tell them. It's Bina-the Jewish woman's special wisdom with which we build our home. It is an understanding beyond words, and like a bowl of comforting soup, it speaks directly to the heart of our loved ones.
---
The Chicken Soup Recipe
2-3 pounds dark meat chicken, cut up
3 onions, 2 halved, unpeeled 1 peeled, cut up
5 carrots, 2 unpeeled, cut 2" 3 peeled cut 1"
5 celery stalks, cut in 2" pieces 1/2 small turnip
4 cloves garlic, peeled
1 bay leaf
1 teaspoon garlic powder
1 tablespoon kosher salt
1/2 teaspoon pepper
1 tablespoon sugar
1/4 cup white wine
1 teaspoon dried dill or 1 tablespoon fresh dill, chopped
matzoh balls, prepared
1. Put chicken, 2 unpeeled onions, 2 unpeeled carrots, 2 celery stalks, turnip, garlic and bay leaf in a large 6 quart soup pot. Fill with water to cover. Set over high heat and bring to a boil. Lower heat and simmer, uncovered, for 2 hours. Occasionally skim the froth as it develops on the surface and discard.
2. Remove from heat and allow stock to come to a safe temperature. Place a colander in a bowl large enough to contain the chicken stock. Pour soup through the colander into the bowl. Remove colander to separate stock from vegetables and chicken pieces.
3. Rinse the soup pot well. Using the cheesecloth, strain the soup back into the pot. Repeat using clean cheesecloth until the broth is clear. Refrigerate stock several hours to overnight. Meanwhile, remove chicken from the bone, tear into edible pieces and set aside. Discard vegetables and bones.
4. Remove and discard congealed fat from the surface of the refrigerated chicken soup. Place the pot over high heat and bring to a boil. Lower heat to simmer and add peeled onion, carrot and celery, garlic powder, salt, pepper and sugar. Simmer until vegetables are soft, about 30 minutes. Add sugar and wine, simmer 10 minutes. Adjust salt and pepper to taste. Lower heat enough to keep soup hot, add reserved chicken, dill and warm noodles or matzoh balls.
Makes 12 servings
Active time: 40 minutes ~ Cooking time 2 1/2 hours
can freeze ~ must make ahead
---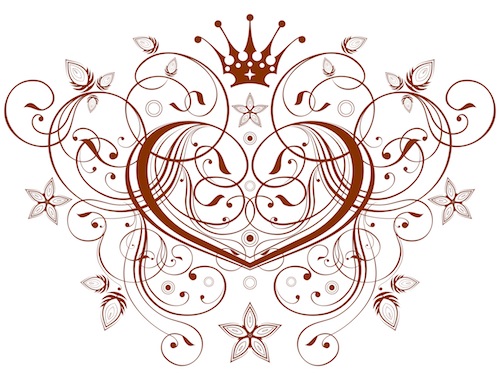 Inspired Chicken Soup is definitely worth the time and effort. But realistically, we don't always have the time to potchke like this. So for harried days when we really need a dose of comfort food, G-d made shortcuts: add chopped vegetables and a dose of garlic powder to any prepared kosher soup. These timesavers are the best thing to keep in my pantry for those days -and we all have them- when we are feeling more INstant than INspired~
---
Soup is powerful food...No wonder that the only mention of soup in the entire Torah appears intertwined with themes of relationship and eternal values. ~from"Souped Up on Fast Food," an essay in "Cooking for The King"  edition one