Queen in the Kitchen 
Recipes from 
Cooking for the King
Here is a special sneak preview just for Queen in the Kitchen Readers.  Three recipes form the first edition of Cooking for the King~ recipes for life. Not just for Rosh Hashana, these delicious recipes will help carry you through the 9 Days.
 Thank you for subscribing!
---
Nish Noshim Salad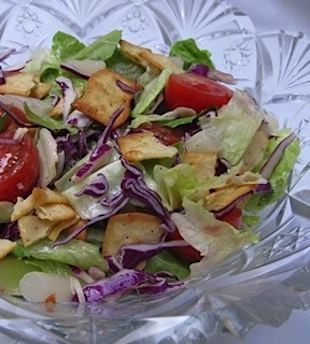 A classic salad that's great for anytime, especially on Rosh HaShanah when you want an easy, sweet compliment to the heavy holiday fare.
1 bag purple shredded cabbage
2 hearts of romaine lettuce, torn or cut into bite-size pieces
1 red onion, chopped
1 box cherry or grape tomatoes, halved
1 (14½-ounce) can hearts of palm, sliced into ½ inch pieces
1 (12-ounce) bag Sour Cream and Onion Nish Nosh chips or thin bagel chips
Dressing:
5 cloves of garlic, minced
1 cup mayonnaise
2 tablespoons Dijon mustard
½ cup sugar
½ cup water
½ teaspoon salt
¼ teaspoon black pepper
1. In a large bowl, toss together the cabbage, romaine lettuce, onion, tomatoes, and hearts of palm.
2. In a small bowl or container, combine the dressing ingredients.
3. Just before serving toss the salad with enough of the dressing to coat lettuce and top with the chips. Toss again until well combined.
Makes 10–12 servings
Active time: 10 minutes
PREPARE AHEAD:
You can prepare this salad ahead of time. Combine the salad ingredients (except the chips) several hours ahead, cover with a damp paper towel, and refrigerate until serving time. Mix the dressing ingredients separately and store tightly sealed in the refrigerator for up to one week. Assemble the salad when ready to serve.
---
Salmon Quiche with Creamy Dill Sauce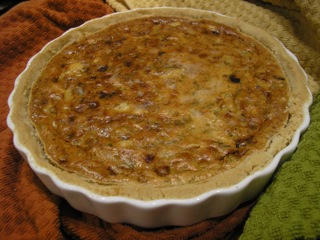 1 tablespoon olive oil

10 shallots or 2 onions, chopped (about 1 cup)

1 cup (pareve) sour cream

1 cup mayonnaise

¼ cup water

1 tablespoon lemon juice

¼ cup fresh dill, chopped, or 1 tablespoon dried dill

1 teaspoon garlic powder

¾ teaspoon salt

¼ teaspoon black pepper

6 eggs, beaten

1 (16-ounce) can salmon, drained

2 9-inch frozen pastry shells, thawed
1. Preheat oven to 400° F. In a medium skillet, heat the oil over medium–high heat. Add the shallots or onions and cook, stirring occasionally, until golden brown, about 15 minutes. Turn off the heat and set the onions aside.
2. In a medium bowl, combine the sour cream, mayonnaise, water, lemon juice, dill, garlic powder, salt, and pepper. Pour off 1 cup of the dill sauce into a container, cover well, and refrigerate until ready to serve.
3. Into the remaining sauce, stir the beaten eggs, mixing well to incorporate. Add the cooled shallots or onions and crumble salmon into the mixture. Stir gently to distribute.
4. Pour the salmon mixture evenly into each pie shell and place quiches directly on the oven rack. Lower the temperature to 375° F and bake until set, 30–35 minutes. The center will feel firm to the touch and should not jiggle. Serve warm or at room temperature with the reserved dill sauce.
Makes 2 quiches, 8–10 servings each
Active time: 20 minutes
Cooking time: 35 minutes
Can freeze for up to 1 month
PREPARE AHEAD:
Salmon Quiche will keep in the refrigerator, tightly covered, for up to three days.
---
Roasted Leek Pasta with Spinach Pesto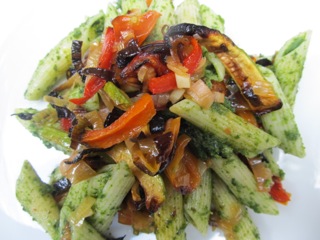 This unique recipe comes with a pesto you'll really use. It's simple to prepare, and its mellow flavor is pleasing and popular.
An integral part of a classic pesto recipe sauce is walnuts. But on Rosh HaShanah it is a custom to avoid eating nuts as kind of a "reverse siman." The gematria (numeric value) of the Hebrew word for "nut," egoz. is the same as that for the Hebrew word for "sin," cheit. We hope that Hashem will overlook our misdeeds on this Day of Judgment so we dare not bring a sign to "remind" Him of our sins. We are judged in the same manner that we judge others. Therefore it is especially important to judge everyone favorably and not to become angry with anyone on Rosh HaShanah and the Ten Days of Repentance. May Hashem overlook the sins of Klal Yisrael and judge us all with abundant compassion!
2 leeks (white parts only), washed well and thinly sliced
1 yellow bell pepper, seeded and thinly sliced
1 red bell pepper, seeded and thinly sliced
1 carrot, peeled and cut into matchstick-size pieces
1 zucchini, cut into matchstick-size pieces
4 roma tomatoes, quartered and seeded
¼ cup olive oil
1 teaspoon kosher salt
1 (1-pound) package bowtie pasta, cooked according to package directions
¼ cup sunflower seeds, toasted
Quick Spinach Pesto:
½ cup frozen spinach, thawed and squeezed of excess liquid
6 cloves garlic
¼ cup good-quality olive oil
2 tablespoons dried basil
1–2 teaspoons kosher salt (to taste)
1. Preheat the oven to 425° F and position the rack in the uppermost slot. In a baking pan, toss the leeks, bell peppers, carrot, zucchini, and tomatoes with the oil. Sprinkle with the salt, toss again, and spread the vegetables into a single layer. Roast, stirring every 15 minutes, until they begin to blacken, about 30–-40 minutes.
3. To prepare the pesto: In a food processor, puree the spinach, garlic, olive oil, basil, and salt until smooth.
2. Toss the hot pasta with ¼ cup of the pesto, then with half of the roasted vegetables. Spoon pasta into a serving bowl, top with remaining vegetables, and sprinkle with toasted sunflower seeds, if desired.
Makes 10–12 servings
Active time: 30 minutes
Cooking time: 30–40 minutes
PREPARE AHEAD:
The pesto will keep in the refrigerator, tightly covered, for up to five days or frozen for up to six weeks. The roasted vegetables will keep in the refrigerator, tightly covered, for up to three days.
---
---
Cooking for The King   by Renee Chernin
The book of Torah insights, recipes and practical tips
designed to bring majesty to the mundane.