Blueberry Streusel Pie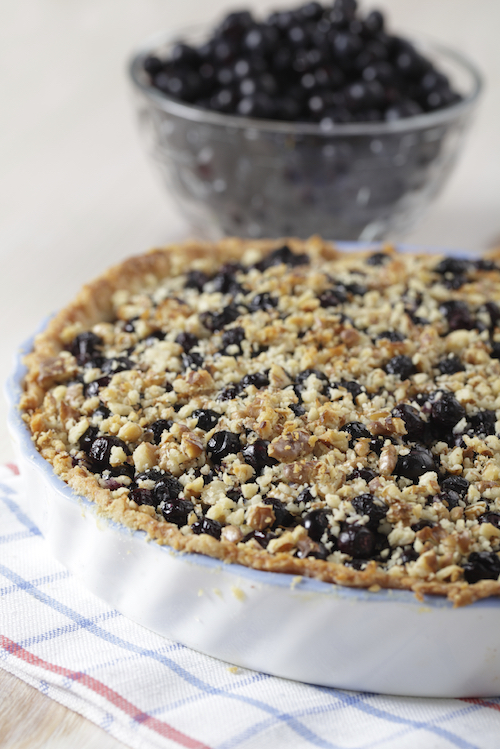 Blueberry Streusel Pie for the taste of homemade all year with frozen blueberries. Add this classic Southern dessert to your Shabbat table for a memorable ending. 
Frozen or fresh, blueberries are beautiful in royal blue with the perfect balance of sweet and tart. In taste and health benefits Hashem's goodness shines through in the simple blueberry. 
Emerging evidence shows that blueberries help protect the brain from the effects of age-related conditions such as Alzheimer's disease or dementia. Researchers found that diets rich in blueberries significantly improved both the learning capacity and motor skills of aging animals, making them mentally equivalent to much younger ones. 
Packed with antioxidants found in the dark blue pigment, blueberries neutralize free radicals that can damage the body's vascular system. A healthy vascular system helps prevent cataracts, glaucoma, varicose veins, hemor- rhoids and heart disease. These antioxidants also boost the efficiency of Vitamin C to increase calcium absorp- tion and prevent infection. 

---
Bubblin' Blueberry Pie
1 1/2 cups sugar, divided
1 cup flour, divided
1/2 teaspoon salt
1 tablespoon lemon juice
4 cups frozen unsweetened blueberries, thawed
1/2 teaspoon cinnamon

4 tablespoons margarine, cubed, very cold
1 (9" ) unbaked piecrust 
1. Preheat oven to 350 degrees. In a large mixing bowl, stir together 3/4 cup sugar, 1/4 cup flour and salt. Add lemon juice and blueber- ries, and gently stir to evenly coat blueberries. Set aside.
2. In a separate mixing bowl, stir together remaining 1/4 cup sugar and 3/4 cup flour with the cinnamon. Using fingers, crumble marga- rine into the mixture until no lump of margarine is larger than a pea.
3. Mound blueberry mixture into the pie crust. Sprinkle streusel over the filling. Place pie on a cookie sheet and bake 1 hour and 15 minutes, or until the juices bubble up in the center of the pie and are thickened and the streusel is a deep golden brown.
4. Remove pie and cool at least one hour before serving. 
Active time: 15 minutes               Cooking time: 1 hour 15 minutes 
Can make ahead.          Can freeze.
---
---