Kosher Brunswick Stew




one of the South's Good cookin' secrets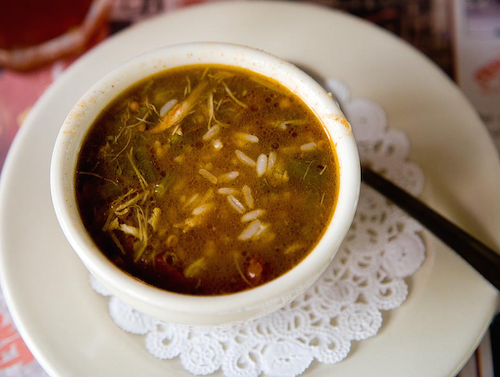 A Southern Classic for what to do with the "leavin's." Brunswick Stew is my favorite planned-over recipe. I have fond memories of this hearty and warming, deeply flavored meat and vegetable stew as a simple weeknight dinner (with cornbread of course).
Put it together it in the morning (a crock pot works best) and as the aroma fills the house, you're preparing a deliciously simple homestyle dinner. It makes a lot and freezes well. Nice to have in store to pop out and thaw for dinner another night. 
Funny but true: I've even served  this meaty stew on a winter Shabbos morning, It makes great a "cholent"! 
---
KOSHER BRUNSWICK STEW
4 cups cooked chicken or beef, shredded
1 medium onion, chopped
1 medium bell pepper, chopped
1 (14.5 ounce) can diced tomatoes
1/3 cup white vinegar
1/4 cup sugar
1 tablespoon salt

1/2 teaspoon pepper
1/2 teaspoon turmeric 
2 tablespoons flour
1/2 cup water
1 teaspoon liquid hot sauce, optional
1 ( 14 ounce) can corn
cooked white rice (traditional, but you can use brown)
1. In a large pot or crockpot, combine meat, onion, bell pepper, tomatoes, vinegar and sugar. Place over high heat, bring to a boil, lower heat to a simmer. Cover and continue to cook over low heat for 2 to 5 hours. If cooking on stovetop, stir occassionally to prevent sticking to the bottom of the pot and add water as needed. A crock pot is perfect because the stew remains hot, infusing the flavors, without simmering away the juices.
2. An hour before serving, whisk together the flour and water in a small bowl. Stir into the stew until blended. Add hot sauce and taste to see if more of the seasonings are needed. Cover and simmer for one hour. 
3. Add corn, warm thoroughly and serve over rice with more hot sauce on the side if desired. 
Makes: 8-10 servings~ Can make ahead. Can freeze.
Active time: 15 minutes~ Cooking time: 2-5 hours