Cooking for the King
$18.00 ~free shipping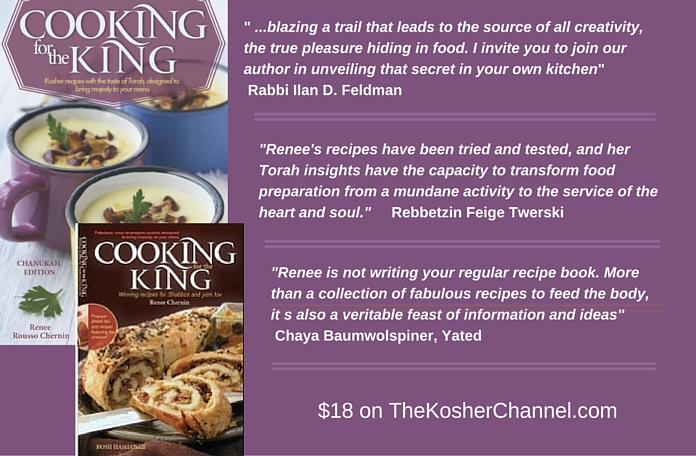 ---
I'm so excited to bring you the beautiful new edition with recipes for mind, body & soul- besides well tested recipes that will make their way into your regular repertoire, there are stories of great Jewish heroines, a splash of Southern charm in the story and recipe for "Comeback Sauce" and a hail to my Sephardic heritage in the piece called "Culture, Kitchen & Quajados."  
"Anything's Possible Potato Soup" with a few additions becomes Corn Chowder, Creamy Broccoli Soup or the delicious rich Cream of Mushroom Soup on the cover. 
There's my most requested "Breezy Barbeque Brisket" and "Onkeles Salad" with a dressing that I should really bottle, it would make everyone so happy.  
---
This is the second in my series of holiday themed kosher cookbooks, seasoned with Torah insights into food and cooking.  I hope these books will be your go-to guides for the holidays and that you'll enjoy their fresh simplicity, cooking tips and inspiration all year long.
---
 Offer available only in the US          FREE SHIPPING    
---