Challah Baking Class
---
Challah baking class tailored to women of all ages and backgrounds. Tried and true event for kiruv and seminary programming. References available.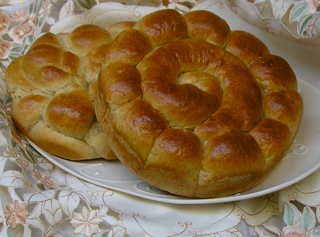 Classes are based on this special recipe:
---
"Thanks so much!!!  We ALL enjoyed!!!  I got a lot of positive feedback." -Brach in Jerusalem
 "The ladies who attended your program are still talking about how awesome you were, and those that didn't attend are sad to have missed you." -Faye in Merrick (Sisterhood)
"Women are still coming up to me and saying how amazing the Demo was" Rivka in St. Louis (Eishes Chayil/Partners & JWRP)
"You generated a great deal of positive energy here Tuesday night - thank you again!!"  Trudy in Milwaukee (TAM PTSA)
"A breath of fresh air" -attendee in Minneapolis (Kollel)
"We enjoyed having you, people still talk about you and your recipes. Hatzlacha!" -Tova (Chabad of Monmouth County)
---
Contact me via the form below to find out  bringing about my fun, inspiring and affordable challah baking class to your school or women's group.

Thank you! I plan to reply to your inquiry in a timely manner.
---
| | |
| --- | --- |
| | Renee relates to women of many backgrounds and promotes a style of simple elegance, health and humor in the kitchen.  Her cooking demo is the perfect event to bring to your community of women:     Sisterhood - N'shei - JWRP - Women's Circle - PTSA Learning Group |
"With a simple plan...great recipes and a message of nobility" Jewish Press    
To learn more about bringing a cooking demo to your community of women, click here...

---