Close the Deal Chicken

a.k.a. Chicken with 40 Cloves of Garlic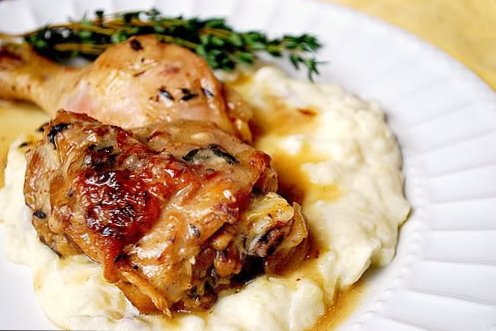 Around our house, Chicken With 40 Cloves of Garlic is known as "Close the Deal Chicken. " Why is that? When we began keeping kosher and could no longer take our most important clients out to elegant, but treif, restaurants for business dinners, they agreed to drop the professional façade and join us in our home, as long as I would make this special dish.
It's become a favorite of my most important clients, my precious family and Shabbos guests. I highly recommend that you make it too. This is the easiest, best recipe for Chicken with 40 Cloves of Garlic that I've found. Try it for your most important "client" and when you have a "deal" you really need to close...
The Close the Deal Chicken Dinner ~from Cooking for The King
12 pieces cut up chicken, about 5 pounds
salt and freshly ground pepper
1/2 cup olive oil
1/2 teaspoon dried marjoram
1/2 teaspoon dried oregano
1 teaspoon dried thyme
40 cloves garlic, separated and unpeeled (about 3 heads)
1. Preheat oven to 375 degrees. Season chicken generously with salt and pepper. Warm oil in a large heavy, ovenproof pan with a tight fitting lid (such as a Dutch Oven or cast iron cooker) over medium high heat. Brown chicken in batches, without crowding, 2 to 3 minutes per side. Remove chicken to a platter.
2. When all chicken is browned, lower heat and return to the pan. Add remaining ingredients, tossing well to coat with oil and herbs. Remove from heat. Seal pan with aluminum foil and cover with lid. Bake without peeking for 1 hour.
Serve Kosher Chicken with 40 Cloves of Garlic over Creamy Mashed Potatoes, topped with the sauce. Place roasted garlic in separate bowl and instruct your fellow diners to squeeze the softened mellow garlic out of the thin skin onto warm bread. Deal-icious!
Makes: 8-12 servings
Can make ahead ~ Can freeze in the sauce
Active time: 30 minutes ~ Cooking time: 1 hour

Garlic can enrich your life in so many ways.
Read about the the health benefits of garlic here.
And click here for this cooking video for Garlic Vinaigrette that tells you about some of garlic's noble qualities.

---
Cooking for The King by Renee Chernin
The book of Torah insights, recipes and practical tips
designed to bring majesty to the mundane.