Frittata This!


easy egg dish for any meal of the day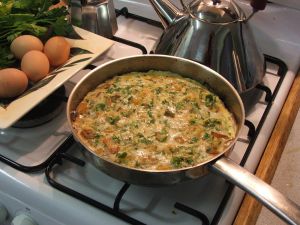 (frĭ-tä'tə, frēt-tä'tə) pronunciation , n.

A frittata is an open-faced omelet, Italian style. Instead of adding a filling to the eggs, the filling is mixed into the eggs prior to cooking on the stove. It is often finished off under the broiler. Think of it as a crustless quiche, but made in a frying pan.
Frittatas are Queen in the Kitchen favorites because they are simple, adaptable and you can use ingredients you are sure to have on hand. It's the perfect Planned Over recipe, and a handy technique to keep under your crown.
---
Basic Frittata Recipe

4 eggs

1/4 cup milk or half and half
1 teaspoon dried herbs to complement your filling: (good combinations are tarragon with mushrooms, basil with tomato, thyme with zucchini)
1 teaspoon salt
1/2 teaspoon white pepper
1 cup chopped vegetables or meat

1 tablespoon olive oil
grated cheese, bread crumbs or crushed crackers for topping
1. In a large bowl beat eggs, liquid, herbs, salt and pepper. Fold in filling and mix well.

2. In a 6 to 8-inch nonstick omelet pan or skillet with heat oil over medium heat. Gently pour in egg mixture.
3. Lower heat one setting and cook 10 to 12 minutes. Don't rush this step-it's a bit of a waiting game until until the edges are brown and center is almost set.
4. Finish off with a blast under the broiler: Wrap handle in aluminum foil if not metal. Layer top with thinly sliced tomatoes and/or bell peppers. End with a sprinkle of cheese, bread crumbs, crushed crackers and a drizzle of olive oil. Broil about 6 inches from heat until eggs are completely set, no visible liquid egg remains and cheese is melted or topping is lightly browned.
5. Serve directly from pan, or cut into wedges and serve with salsa or warm marinara sauce if desired.
Seves: 4 ~ Can make ahead, can freeze
Active time: 10 minutes ~ Cooking time: 20 minutes 
Queen in the Kitchen Frittata Tips:
Planned Overs make for great frittatas. As long as you are cooking, make extra and Plan Over. Then you'll have the basis of your dinner ready. Try these tasty combinations:
cooked bite sized pieces of meat with broccoli, 
potatoes, red onion and thyme
~
shredded chicken with corn, diced, drained tomatoes,
chopped scallions, cilantro
≠~
shredded cheese, zucchini, cooked rice, dried oregano
~
shredded cheese with cooked pasta, top with tomato
_____________________ & you should know:_________________
1. Use the right sized pan: for 2 eggs, use a 6-inch pan; for 6 eggs, use an 8-inch pan; for 8 eggs, an 8 to 10-inch pan.
2. Water is released when vegetables cook, so to avoid a soggy egg dish, use only cooked, drained vegetables.
 3. Cook until just set, being careful not to overcook or your creation will become hard and dry
  4. Chilled wedges  are very portable, a nice change from sandwiches or pizza.
---