Kefte Kebabs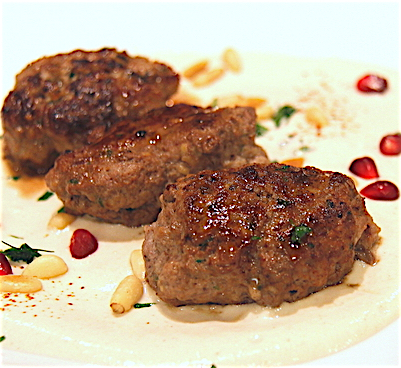 Kefta is basically a Middle Eastern meatball. But keftes are rarely the round balls we know so well. Iran, Tunisia, Egypt all boast their best versions of kefta kebabs.  In Turkey alone, there are more than 250 kinds of kefta. They can be baked, fried in oil, poached in a variety of sauces or grilled.         
---
Middle Eastern Kosher Kebabs
2 pounds ground beef 1 onion, finely chopped
1 clove garlic, finely chopped
1/3 cup fresh parsley or cilantro. chopped (do not use dried)
1 teaspoon salt
1/2 teaspoon mint
1/2 teaspoon turmeric

1/2 teaspoon ground cumin
1/2 teaspoon paprika
1/4 teaspoon marjoram
1/4 teaspoon pepper bamboo or metal skewers
olive oil 
1. In a large bowl, thoroughly mix all ingredients except oil. Refrigerate for 1 one hour to overnight.
2. Soak bamboo skewers (if using) for 35 minutes to an hour, or thin- ly coats metal skewers with olive oil.
3. With wet hands, shape the meat into 15-20 elongated meatballs, similar to torpedoes. They should be about 4" long and 1 1/2-2" at the thickest point. Skewer the keftas lengthwise.
4. Place each skewer on a baking pan until ready to grill.
5. Preheat grill or broiler. Grill or broil 4" from heat for 3-5 minutes on each side until firm and just beginning to blacken.
6. Serve hot or room temperature with warm pita bread. 
Makes: 8 servings         Must make ahead, partially, can freeze
Active time: 30 minutes       Cooking time: 10 minutes 
---
more delicious kosher meat recipes......
---