Kosher Gumbo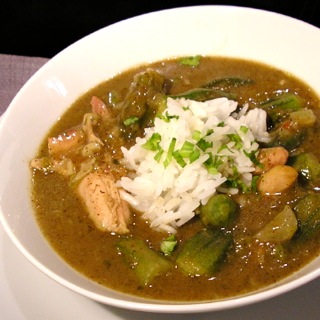 Kosher Gumbo sounds like an unlikely pairing. Do Jews eat okra? The answer is a resounding "Yes!" Sephardim have a traditional, and much adored okra dish called "bamia," and bamia simply means okra.

Likewise, the word "gumbo" is really just African for okra. This stew, named for its main ingredient became a staple in the Creole cooking of the Mississippi Delta region.

This Kosher Gumbo, like many soups and stews, takes a while to make. And like most slow cooked dishes it tastes better the next day so gumbo is a great make-ahead dish that also freezes well. And for you time-pressed Queens in the Kitchen, I've included some timesaving steps* that sacrifice very little on flavor.

---
Kosher Chicken Gumbo
2 pounds chicken thighs

2 bay leaves

1 large onion, quartered

½ cup vegetable oil

½ cup flour

1 large onion, diced

½ cup chopped fresh parsley or 3 tablespoons dried parsley

3 ribs celery, chopped

1 green bell pepper, chopped

1 red bell pepper, chopped

½ cup sliced green onions


4 cloves garlic, minced

4 cups chicken broth

1 teaspoon salt

1 teaspoon Creole seasoning, (Creole seasonings are not created equal so adjust to taste)

4-5 cups steamed white rice, traditional but optional

liquid hot pepper sauce, optional

4 cups fresh okra, trimmed or 1 (10 ounce) bag frozen okra
1. Place chicken a large stockpot and cover with 6 cups cold water. Add 2 bay leaves, and the quartered onion. Bring to a boil, lower heat and simmer, uncovered, for one hour until chicken almost falls off the bone. Remove from heat and discard onion and bay leaves. Remove chicken and set aside.*
2. In large heavy pot, heat oil over medium high heat. Add flour and make a roux. (to make a roux: cook oil and flour together about 10-15 minutes, stirring constantly and slowly with a whisk until it turns very dark brown, almost between brown and black.)
3. Add diced onions, parsley, celery, bell peppers, green onions and garlic to the roux. Cook about 10 minutes, stirring often with a large spoon until vegetables are tender.
4. Add reserved broth, salt, and Creole seasoning to the vegetables, stir well to blend and add okra. Simmer uncovered while you remove the chicken from the bone. Discard bones and skin. Add chicken to the gumbo. Lower heat to low, cover and simmer 15 minutes. Taste, add more salt and Creole Seasoning if desired. 
5. Serve a a soup, ladle gumbo over rice or serve as pictured with the rice in the gumbo. Add hot pepper sauce, if desired.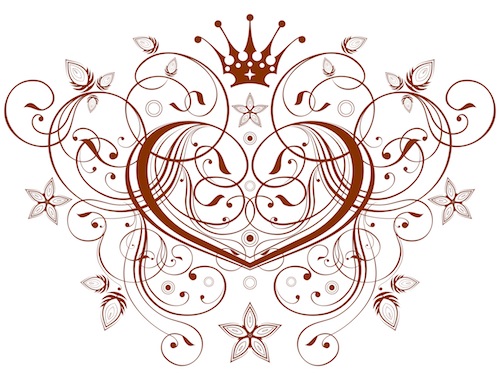 QITK Timesaving tip: Eliminate step 1. Substitute one store bought rotisserie chicken or 1 ½ pounds leftover chicken, skin and meat removed from the bone and cut into spoon sized pieces. Replace homemade broth with 4 cups prepared chicken broth. Continue with step 2.
Makes: 8-10 servings ~ Can make ahead/Can freeze 
Active time: 1 hour ~ Cooking time: 1 hour

---