appetizer salad or hearty side dish:




Mushroom Ratatouille
Not traditionally one of the ingredients in classic ratatouille, my Mushroom Ratatouille became a cookbook item when I found a great sale on mushrooms. Needing to use up my supply I experimented and met with success in this hearty salad or vegetarian main dish. Fresh mushrooms are not as available where I shop in Israel, so I often replace them with two (400 gram/15 ounce) cans and the results are almost as good.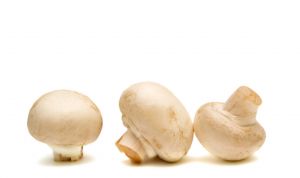 MUSHROOM RATATOUILLE
2 tablespoons olive oil
1 yellow or red bell pepper, seeded & cut in 8 pieces
1 green bell pepper, seeded & cut in 8 pieces 1 onion, diced
2 pounds button mushrooms, sliced
1 (14.5 oz.) can diced tomatoes
Sauce:
2 garlic cloves, minced
2 tablespoons balsamic vinegar
1 tablespoon sugar
1. In a small bowl, whisk together sauce ingredients.

2. Heat oil in a large, heavy pan over high heat. Add bell peppers, pressing down and turning until both sides are charred. Add onion, cook for 5 minutes. Add mushrooms and cook, stirring occasionally until juices release. Reduce heat to low, add tomatoes and sauce and simmer for 45 minutes until mushrooms are very soft and sauce thickens.
3. Cover and refrigerate for at least 24 hours. Serve warm or at room temperature.
Makes: 8-10 servings ~ Must make ahead
Active time: 20 minutes ~ Cooking time: 45 minutes
Make extra and try my time saving delicious Planned Over Recipes with Mushroom Ratatouille!
---
Cooking for The King: The book of Torah insights, recipes and practical tips designed to bring majesty to the mundane.