T

HE 

R

OSH 

H

ASHANAH 

C

OOKBOOK
Cooking for The King

~

winning recipes for Shabbos & yom tov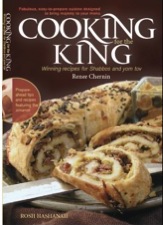 Preparing for Rosh Hashanah is about more than cooking up a storm.That's why Cooking for The King is more  than just another kosher cookbook. For example, Here's how to  properly prepare for these awesome days. 

---
---
Cooking for The King   by Renee Chernin
The book of Torah insights, recipes and practical tips
designed to bring majesty to the mundane.
---