The Best Israeli Salad
~Queen in the Kitchen Style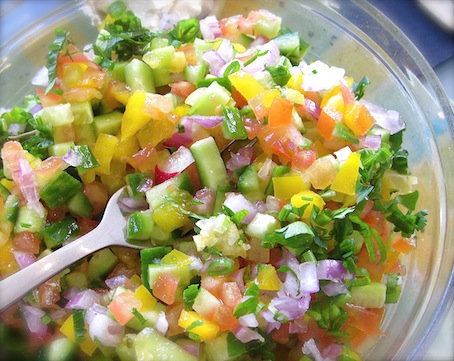 A chopped Israeli Salad is all about using what's on hand, and what you enjoy eating. That makes it the quintessential Queen in the Kitchen kind of recipe.
Basic Israeli Salad consists of tomatoes, cucumber and onion and fresh herbs. The herbs must be fresh. (O.K, I confess, dried dill is almost as good, so if you aren't going to use fresh then at least add some dried dill.) It is a very flexible salad so have some fun to experimenting with the variations below.
Israeli Salad is usually served along with other salads featuring fresh Mediterranean vegetables.
The Best Israeli Salad Recipe ~from Cooking for The King
4 small plum tomatoes, chopped
2 cucumbers, peeled and chopped
3 scallions, cut in 1/2" slices
1/2 cup parsley, finely chopped
1/2 cup fresh mint, dill, cilantro or a mix of these, finely chopped
4 tablespoons olive oil
1 juice of one large lemon
1 teaspoon salt
1/2 teaspoon pepper
Mix all ingredients and serve either at room temperature or chilled.
makes 6-8 servings ~ can make ahead
active time: 20 minutes
a kosher for Passover Recipe
Now for the fun...try some of these variations to suit your taste, pantry and pocketbook:
a chopped pickle

a handful of sliced olives

a couple of stalks of celery, the leaves are good, too

a drizzle of honey

a tablespoon of zaatar

a smidgen of Yemenite szchug
What do you like in your Israeli Salad? I'd love to hear!
---
Cooking for The King by Renee Chernin
The book of Torah insights, recipes and practical tips
designed to bring majesty to the mundane.