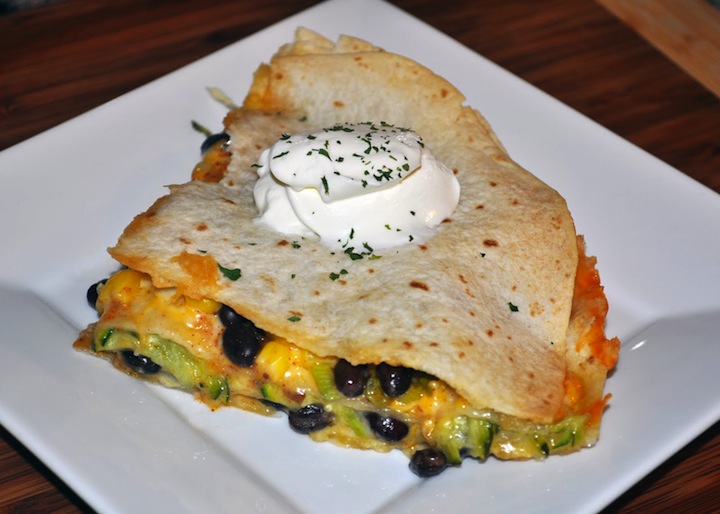 One Queen in the kitchen said Kosher Mexican Quesadilla Pie is her perfect kind of recipe. Why? Because it is:
Simple ~the kids can make this
Adaptable ~how you like it
Ingredients ~are easy to find
Delish!
Just layer inexpensive, easy to find soft flour tortillas with any odds and ends in your fridge, or make it your signature dish using the filling and seasoning suggestions you choose from the lists below.
Here's a delicious filling for Kosher Mexican Quesadilla Pie.
The Quesadilla Pie Recipe ~from Cooking for The King
You'll need:
5 large (12-14" diamater) soft flour tortillas
2-4 tablespoons butter or olive oil
2 cups grated cheddar, munster or mozzarella cheese
1 cup mayonnaise
1/2 cup sour cream
4 cups filling, see below:
&nbsp
Filling suggestions, choose 3 or 4:
Black or Pinto Beans
Refried beans or hummus
Bell Peppers, thinly sliced fresh or sautéed with a bit of garlic
Tomatoes, chopped and drained of excess liquid
Avocado slices or guacamole
Summer squash, thinly sliced
Corn kernels
Olive slices
Soy "beef" crumbles, prepared according to directions
Chopped onions, sweet, white, red or green; fresh or sautéed
Canned chili in adobo, green canned chiles, jalapeño chilies, chopped
Fresh chiles, thinly sliced
&nbsp
Seasonings:
Cumin
Chili powder
Garlic Powder
Chipotle or fajita seasoning
Salt & pepper
Cilantro, fresh, chopped
Parsley, fresh or dried
1. In a medium bowl, mix together your choice of fillings and seasonings to equal 4 cups. If you choose 3-4 ingredients from the "fillings" list, it will all work together. Season to taste from the "seasonings" list. (That means you'll have to taste the filling to see if it tastes good. This is essential Queen it the Kitchen information).
2. In another bowl, mix cheese with the mayonnaise.
3. Preheat oven to 350°F. In a large (12"-14" diameter) skillet, spread the bottoms and sides with butter or olive oil, or spray with butter flavor cooking spray.
4. Place one tortilla on the bottom of the pan. Spread 2/3 cup cheese mixture over tortilla and cover with 1 cup of filing . Top with another tortilla. Repeat, ending with a tortilla.
5. Dot top tortilla with a generous dose of butter, swirl of olive oil or if you must, butter flavored cooking spray. Cover tightly with pan lid or foil for and bake in preheated oven for 30 minutes.
6. Remove pan from oven and set oven to Broil. Broil 2-3 minutes, until the top is lightly browned. Remove from oven. Slide quesadilla on to a serving plate. Let cool for 10 minutes before slicing and serving with a dallop of sour cream.