Kosher Mexican Quesadilla Pie
Tex-Mex Lasagne with a "wow"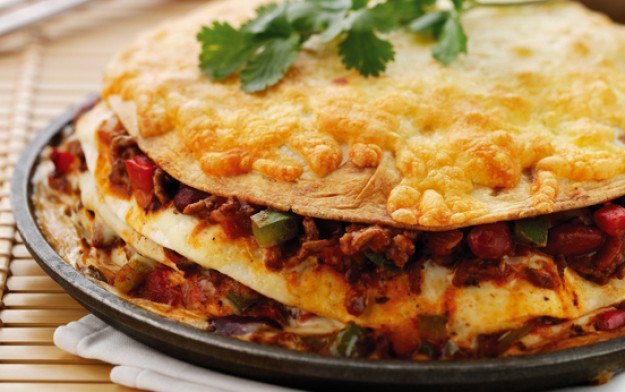 One Queen in the kitchen reader said Kosher Mexican Quesadilla Pie is her perfect kind of D-I-S-H. Why?   Because it is:
Delish! with Ingredients ~that are easy to find. It is Simple ~the kids can make this & Has adaptability ~make it how you like it.
Just layer easy to find soft flour tortillas with any odds and ends in your fridge. Or make it your signature dish by concocting your own special combination of filling and seasoning suggestions you choose from the lists below. 
The Quesadilla Pie Recipe
5 large soft flour tortillas 
2-4 tablespoons butter or olive oil
2 cups grated cheddar, jack or mozzarella cheese
1 cup mayonnaise
1/2 cup sour cream
4 cups seasoned filling*
1. Mix filling* ingredients (see below).
2. In a medium bowl, mix cheese with the mayonnaise.

3. Preheat oven to 350°F.   Coat a large (12"-14" diameter) skillet with butter, olive oil or cooking spray. 
4. Place one tortilla on the bottom of the pan. Spread 2/3 cup cheese mixture over tortilla and cover with 1 cup of filing . Top with another tortilla. Repeat, ending with a tortilla. 
5. Dot top tortilla with a generous dose of butter or drizzle of olive oil. Cover tightly with pan lid or foil for and bake in preheated oven for 30 minutes.
6. Remove pan from oven and set oven to Broil. Broil 2-3 minutes, until the top is lightly browned. Remove from oven. Slide quesadilla on to a serving plate. Let cool for 10 minutes before slicing.  Serve with sour cream.
---
*TO MAKE FILLING: In a medium bowl, mix together your choice of fillings and seasonings to equal 4 cups. Choose 3-4 ingredients from the "filling" list and season to taste from the "seasoning" list. 
Filling
Black or Pinto Beans
Refried beans or hummus
Bell Peppers ,thinly sliced 
Tomatoes, chopped and drained
Avocado slices or guacamole
Yellow Squash, thinly sliced
Corn kernels
Olive slices

Soy "beef" crumbles, prepared 
Chopped onions, sweet, white, red or green; fresh or sautéed
Chiles: fresh, canned in adobo, green canned chiles, jalapeño, chopped
Seasoning
Cumin 
Chili powder 
Garlic Powder
Chipotle or fajita seasoning
Cilantro, fresh, chopped
Parsley, fresh or dried
Turmeric

Thyme
Oregano
Dried red pepper flakes
Salt & pepper

makes 6-8 servings ~ can make ahead~ active time: 20 minutes ~ cooking time: 45 minutes
---